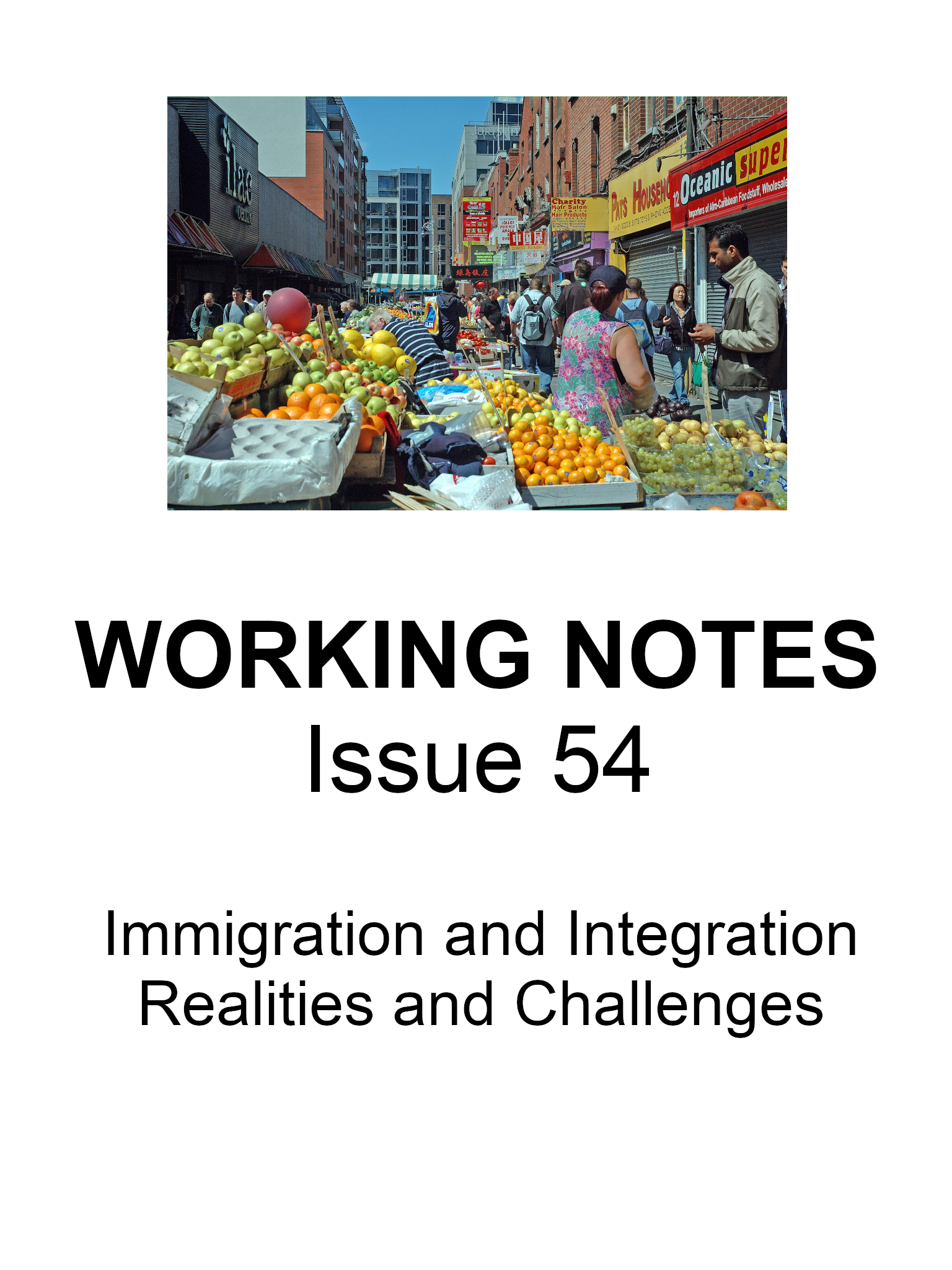 The cover of this issue of Working Notes features a colour photograph of a scene from Moore Street in Dublin just a few weeks ago. This street, like many other parts of Dublin, is now populated by many nationalities – immigrants who have come to live in this country. Ireland has become more colourful as a result of immigration and many people, both migrants and Irish, are enriched personally, socially and culturally as a result. Individuals, communities and organizations have embraced the opportunities presented by immigration and have responded positively to the associated challenges. Many newcomers are making great efforts to adapt to their new home and share their talents and cultural riches. However, international experience shows that the harmonious coming together of peoples in a host country cannot be taken for granted.
Ireland is at a unique point in managing immigration and the challenges it presents. We have passed the point of debating if we want immigration: the fact that about 10 per cent of our population are immigrants confirms that Ireland has become a country of destination.
We are now at the stage where we have to adopt principles, policies and practices that will maximize social cohesion, and foster the inclusion and participation of immigrants. We need also to realistically acknowledge the challenges which immigration poses for the host population and to deal with these challenges in ways that guard against exploitation of migrants, xenophobia and racism.
The articles in this issue of Working Notes contain analyses of some important aspects of migration. Outgoing CEO of the Irish Refugee Council, Peter O'Mahony gives a pithy overview of the asylum system. Acknowledging the improvements in the system over the past seven years, he draws attention to the continuing deficiencies and restrictions of the system which impose hardship on asylum applicants and inhibit integration. The barriers he identifes are state imposed and could be removed if the Government adopted a more enlightened approach.
In his article, Gerry O'Hanlon SJ explores the position of Islam in Ireland and sheds light on some key issues that need to be addressed if there is to be a fruitful engagement between Islam and other traditions in Ireland. How can Muslims, Christians, members of other religions and of none engage in the kind of dialogue that will help overcome simple denial of differences on the one hand and cultural panic on the other?
There are dark sides to the reality of migration. Cathy Molloy's article highlights the issue of trafficking of women and girls into Ireland for sexual exploitation. She notes that an adequate response to this problem requires much more than the long-overdue legislation against traffickin and even services to support victims. It requires addressing the cultural and social attitudes to sexuality that have become pervasive in our society.
In the final article, Eugene Quinn, highlights the still nascent state of official policy on integration and the fact that this is focused primarily on the integration of refugees rather than on the much larger number of migrant workers. He emphasises the need to closely coordinate integration policy with immigration policy.
Some useful policy directions are provided by two NESC documents on migration published in late 2006. They set out the basis for a principled guided policy on migration which will entail many action points. It is clear that we need to implement policies on integration across a wide range of areas. The Jesuit Centre for Faith and Justice endorses the recommendation in Peter O'Mahony's article that such implementation should be led by a Minister of State with specific responsibility for integration, whose remit will not be driven primarily by security concerns.