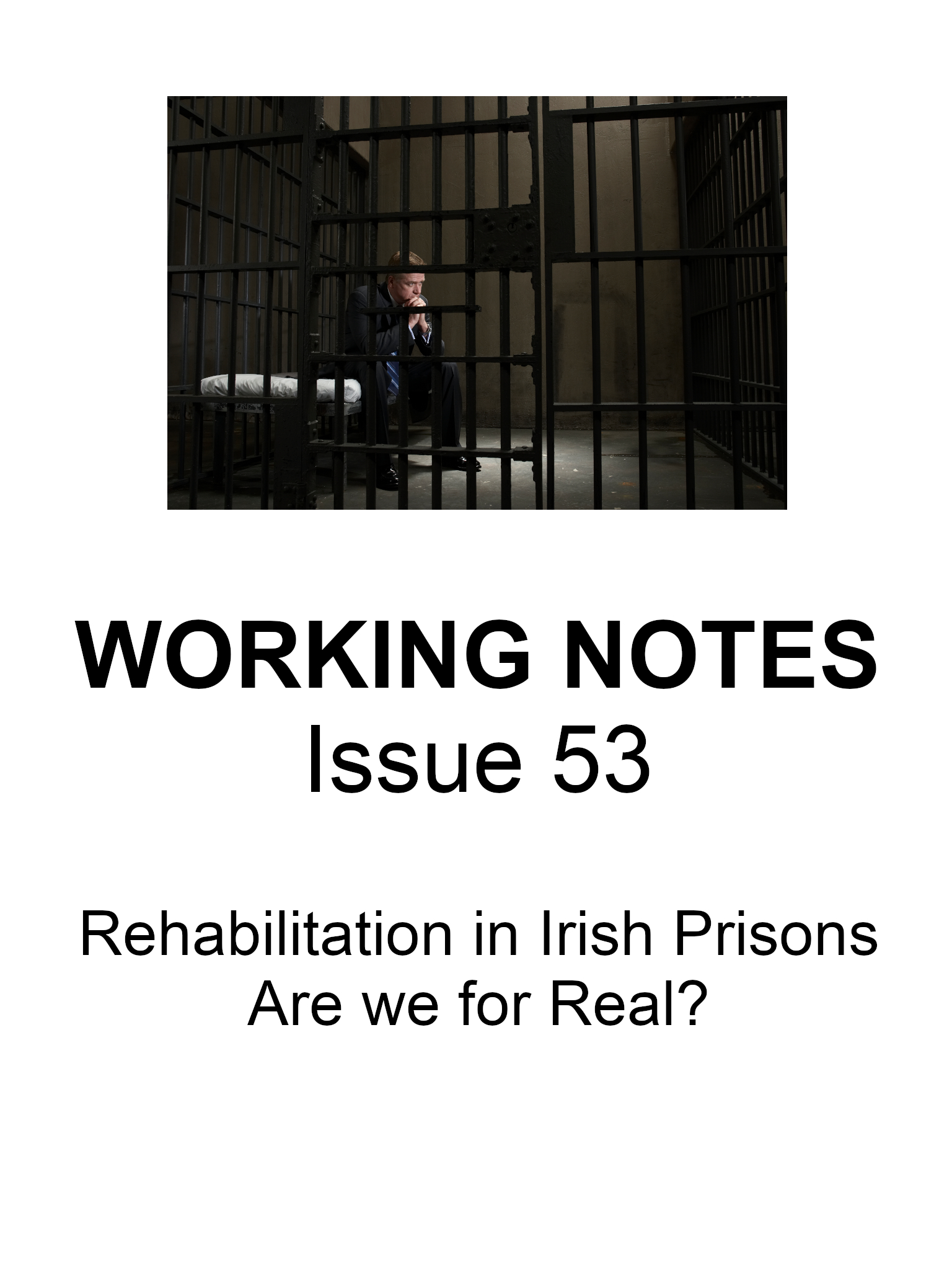 St Patrick's Institution for Young Offenders should be closed immediately.
This recommendation appeared twenty-one years ago in the Whitaker Report on the penal system. It has been repeated forcefully by many over the years, most recently by the Inspector of Prisons in his fourth annual report made available in August. However St Patrick\'s remains open. Worse still rehabilitation in St Patrick's has regressed in the years since Whitaker.
Peter McVerry SJ, who was a member of the Whitaker Committee, outlines in this issue of Working Notes the reasons why the building, regime and conditions in St Patrick\'s continue to be totally inappropriate for the young people detained there. Very few dispute this conclusion. Speaking in the Dáil on October 3rd, the Minister for Justice stated that the Government shares the view that St. Patrick\'s Institution is no longer suitable. The Government is committed to building a replacement.
This commitment, to invest in bricks and mortar, has taken over twenty years to materialise. But the problem has always been broader than the physical conditions in St Patrick\'s. More scrutiny of the location, design and size of the replacement prison is required. Critically, one may question the proposal to locate the new young offenders institution amid the new super prison campus at Thornton Hall which will also house prisons for more hardened criminals.
Rehabilitation must be a foundational concern in any prison-building programme. More important than any regeneration of prison buildings is a commitment to regeneration of the young people we send to prison. Prison must be a tool in a broader array of strategies that break the cycle of disadvantage and associated offending.
This requires a radical re-orientation of the place of prison in the Irish penal system. In her article, Mairéad Seymour outlines some alternatives to custody that have proved effective in other jurisdictions. These alternatives offer a different and practical vision for penal reform in Ireland. Implementing such a vision could reduce significantly the need for prison places and the associated cost of €90,000 per prison place, per year.
A realistic commitment to rehabilitation will require political leadership. Discussions on crime and punishment often generate more heat than light. Political leaders and the media in particular need to examine their role in fostering an attitude of intolerance that translates into futile and unjust policies and practices. Yet as submissions to the Crime Forum demonstrate, there may be greater public support for the practical and ethical arguments for rehabilitation than is estimated.
The Minister for Justice now has a great opportunity to exercise leadership. The new working arrangements for Prison Officers will save up to €25 million per annum. He also has the €20 million generated from the sale of Shanganagh Castle, which was a young offenders openprison until he closed it in 2003.
This money now needs to be ring-fenced and used to develop alternatives to custody in targeted areas, targeted programmes in prisons and a strategy to ensure rehabilitation begun in prison continues after release. In the absence of such a programme, prison will remain little more than an interruption in an offender\'s criminal behaviour. We all deserve more.
Editorial by Peter McVerry SJ