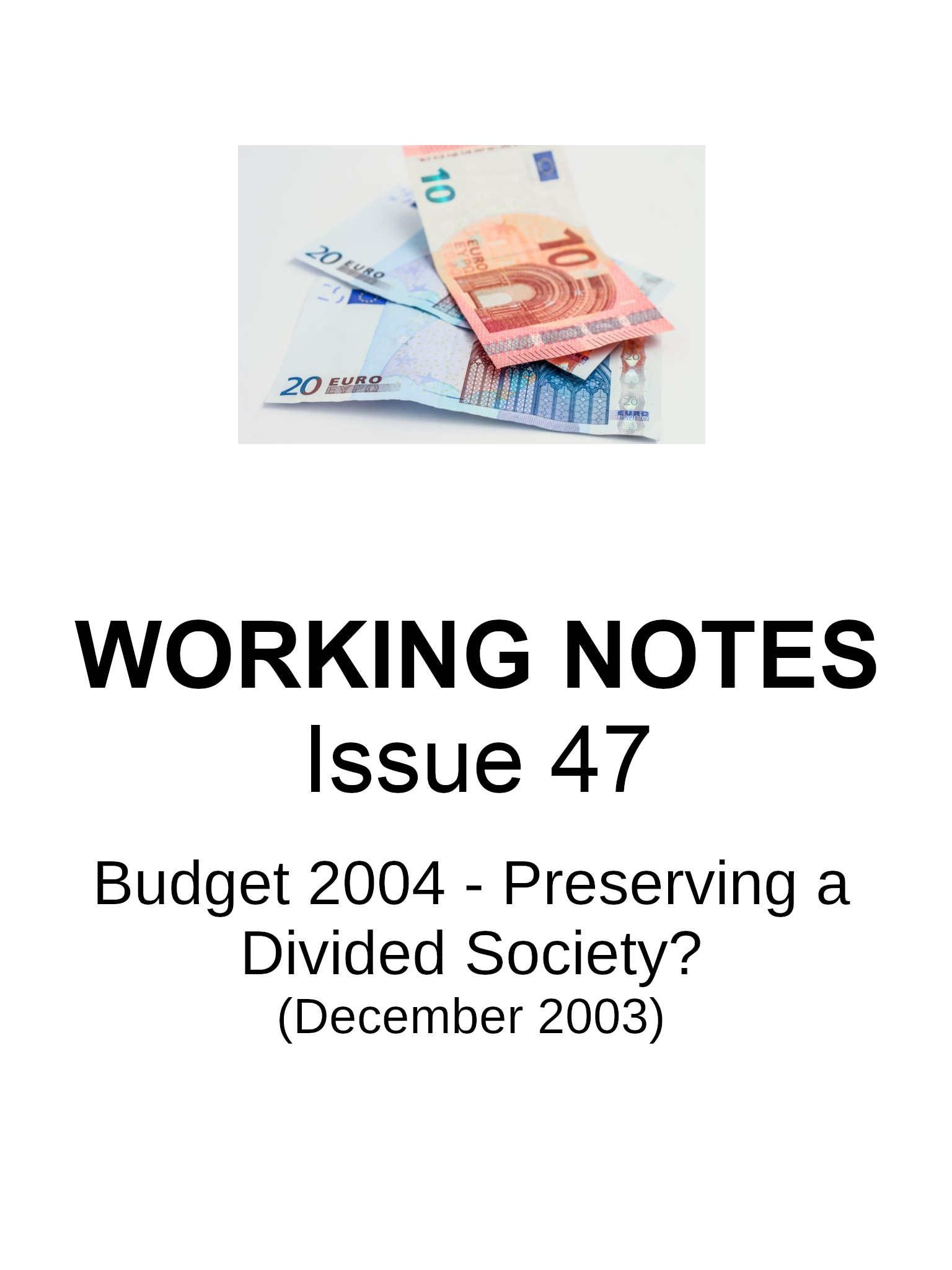 Dear Reader,
We are happy to present to you with the December 2003 issue of Working Notes. We hope you find it helpful for your reflection and work.
In our opening article, Budget 2004: Small Change for the Poor, Robin Hanan of EAPN (European Anti-Poverty Network) Ireland, analyses the seventh Budget to be introduced by the current Minister for Finance. While welcoming the increases announced in social welfare payments, and the concentration of income tax cuts on the lowest paid, Robin Hanan suggests that, viewed in a broader context, the Budget is not so 'harmless'. It was preceded by the Estimates, published in November, which introduced welfare cuts that will save a comparatively small amount of money but have a devastating impact on the people affected, and by a year-long run-down of the Community Employment and Jobs Initiative Schemes. The Budget is critically considered in the light of fact that Ireland is the fastest-growing economy in the European Union, and the member country with the second-highest level of income, yet has the lowest spending on social provision and the lowest overall tax rates.He concludes that the Budget showed little indication of a willingness to undertake the type of taxation and spending measures that would be required to seriously address the tasks of eradicating poverty, reducing inequality and developing a level of public services commensurate with our wealth.
In the second article in this issue, Economics and Justice, economist Eithne Fitzgerald argues that the purpose of any economic system ought to be to serve the greater good of society and to ensure that the basic human needs of all its people are met in a way that is both fair and efficient. Ireland over the past decade illustrates some of the virtues and the vices of the market model. Its benefits, in terms of rising incomes and increased employment, are highlighted in public and political discourse. She suggests that even though mainstream economics acknowledges that there are important areas of activity where the market \'does not give the right answer\', public debate on economic policy has become increasingly dominated by those adhering to a blind belief in market forces. She argues there is need for an alternative economic voice – one that places justice and redistribution at the heart of our economic values.
As a seasonal offering, we are privileged to have insightful Perspectives on Christmas from two people who have come to reside in Ireland from afar, Zhiyan Sharif, who is from Kurdistan in Iraq and Egide Dhala who is from the Congo. Finally, Cathy Molloy introduces a Christmas Reflection from an essay by Karl Rahner SJ.
If you enjoy what you read in these pages and find it useful we invite you to consider making a voluntary subscription to Working Notes. We suggest a sum of €15.00 per year. If you wish to contribute more to our work, we would be most appreciative.
We thank you for your continued support and wish all our readers a very happy Christmas.
Eugene Quinn
Director, Centre for Faith and Justice