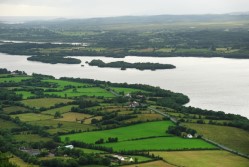 Introduction
Water is vital to all of life. All living creatures, including humans, need enough water, of sufficient quality, to survive and thrive. We in Ireland are fortunate: most of the time, our citizens have access to a clean, healthy, supply of water for drinking and sanitation. Around 768 million people, one tenth of the world's population, do not have this.
Sinéad O'Brien
There is a downside to our privileged position in Ireland: we take water for granted. Furthermore, water is often associated only with what is piped into our homes. We often forget that the water in our tap or toilet cistern is part of a much wider natural water-cycle involving all of Ireland's water systems: our rivers, lakes, groundwaters, coastal areas and, ultimately, the world's oceans. One need only sit by the lakeshore in Glendalough or by the wild Atlantic coast on a summer's evening to realise that the Irish water environment has so much more to offer than simply tap water.
Our water resources play an intrinsic role in the domestic, agricultural, business and recreational life of the country. In addition to providing us with drinking water, our watercourses carry away our sewage and industrial waste, support large and small businesses, and provide valuable habitats for nature and wildlife. They are a recreational resource to be enjoyed by local communities and tourists and quiet places of reflection and beauty for us all.
The world's major religions have traditionally recognised the value of water and its centrality in human life. This is evident in the way water is seen by religions as a purifier, and in the way it is incorporated into religious rituals and practices so as to serve the process of spiritual cleansing and renewal. Religions also recognise water as the source of all life, as an element vital to the survival of human beings and to sustaining existence on earth. And so water is often seen as a symbol for life itself.
Pressures and Threats
Because of the many uses to which it is put, and because of its omnipresence in our lives, water is subject to a multiplicity of pressures and threats. Our business, domestic, leisure and development activities all have impacts on the water environment. In the case of Ireland, the results of these pressures are starkly illustrated in the findings of the Environmental Protection Agency report, Water Quality in Ireland, 2007–2009, which showed that only around half of our rivers and lakes (52 per cent and 47 per cent, respectively) were at a satisfactory standard.1
These findings are disappointing but not surprising when you consider that Ireland's water is the final recipient and carrier of many of the chemicals and pollutants that we release, knowingly and unknowingly, while going about our lives, making a living and producing goods and services. Some of these chemicals and pollutants are absorbed and diluted by soil and water. Many, however, persist in the environment and interact in ways we do not yet understand. Many find their way into water supplies; some are removed by water treatment, some are not.
Physical alterations to our rivers, such as dredging and infill of river-side wetlands, also have a serious cumulative effect. One consequence may be limited floodplains to absorb rainwater, so that heavy downpours during a storm may result in river water surging downstream, gathering force until it finds a weak spot and breaches the river bank. Over the last five years, we have seen the terrible damage that can accrue, and indeed the tragic accidents that can occur, as a result of flooding events.
The pressures on our water systems and river catchments begin as soon as rivers and streams bubble from their mountain source and intensify as they make their way to the sea. Silt and pollution from upland forestry felling can cause significant pollution in hilly areas. Agricultural chemicals, slurry-spreading, and leaking from faulty septic tanks take their toll once the rivers flow down into agricultural and more populated areas. Discharges from town and city sewerage plants and from large and small industrial units are added to the mix as the river travels to the sea. Drainage of wetlands, building on floodplains and other physical alterations also change the natural course of rivers and leave less space for nature and natural processes. Moreover, along the course of a river, water is abstracted in large quantities for industrial and domestic use.
The story of a river and its water cycle is a complex one. All of the activities and developments impacting on a river may individually represent modest pressures, but cumulatively the risk becomes significant and can lead to the river, its lakes, or the bay into which it flows, falling below the standards required for human health, for nature and indeed for what is required to meet our obligations under EU and national law.
EU Water Framework Directive
The EU Water Framework Directive (WFD) came into force in 2000 with the aim of tackling the myriad pressures on Europe's waters by setting ecological targets and requiring EU Member States to develop integrated river basin management plans to meet them.2 Whilst the Directive has been the driver for a move towards more integrated management of water, it is fair to say that its effects so far have been a great deal more modest than hoped.
Because rivers cross national and county boundaries and protecting them involves such a diverse range of issues, managing and protecting our water resources is a complex task that involves a wide range of state agencies. If we in Ireland are to protect our water resources and meet our obligations under the Water Framework Directive, the currently fragmented system of water administration must be overhauled to provide a streamlined and integrated system for managing water.
The current reform of the water services sector, through the setting up of Irish Water, has generated significant political support and considerable public interest, mainly because it will involve the introduction of water charging. Unfortunately, in this process, the protection of the wider water environment has been ignored. As we have seen, water services are only part of a much bigger catchment-based water cycle which the Government appears to be neglecting in the drive to get Irish Water up and running.
While environmental groups are supportive of a fair and equitable water charge, the lack of political interest in the protection of our inland and coastal waters is of serious concern to the Irish environmental organisations which make up the Sustainable Water Network (SWAN).
This lack of political interest in safeguarding our water systems is particularly regrettable, given the commitments in regard to their management and protection set out in Ireland's River Basin Management Plans, drawn up as a requirement of implementing the Water Framework Directive (WFD), and published in 2010.3 The Directive requires that these plans be implemented so as to achieve 'good' status for our waters by 2015, or by 2027, where exemptions have been formally agreed. Under the Directive, waters are classified as either 'high'; 'good'; 'moderate'; 'poor'; or 'bad', depending on whether and to what extent they deviate from what the water body should be under natural conditions. 'Good' status is defined as ecological conditions which deviate only slightly from those found under undisturbed conditions. Only waters classified as having 'high' or 'good' status pass the WFD test.
The River Basin Management Plans have been in place now for three years and there is little indication that much is being done to implement them. SWAN is urging political support for reform to address this debilitating lack of coordination between government agencies and departments in regard to the protection of the natural water environment. New integrated structures must have a river catchment approach and be provided with the resources and statutory power to coordinate, oversee and enforce implementation across all relevant public bodies.
What Households Can Do
While managing a whole water catchment area is a complex task requiring expert planning and implementation, every Irish home is part of the water cycle and there are ample opportunities for individuals and families to make changes to ensure a cleaner and healthier water environment for ourselves and our community.
There are simple things that everyone can do to cut down wastage of water and to minimise the pollutants that are released from their home, business or farm into the waterway. In addition to making local streams, rivers, and bays, cleaner and safer for individuals, families and communities, and for wildlife, these actions often make sound financial sense.
Actions which can be taken include:
Ensuring that taps are not left running or constantly dripping: a tap dripping once a second wastes about 10,000 litres of water over a year;
Fitting an eco shower head – this uses 50 per cent less water;
Since one-third of all water used in the home is flushed down the toilet, considering options for adaptations to the toilet cistern that reduce the amount of water per flush;
Collecting rainwater for watering gardens and plants, washing cars and other household activities;
Using a bucket of water, rather than a hose, for washing the car;
Using phosphate-free dishwasher and laundry products;
Being careful about what goes down the drain, as this may end up in a local river, lake or bay. Paints, oils, wood preservatives, solvents, varnish, thinners, pesticides, fertilisers, poisons or acids should not be poured down the drain; instead, they should be brought to the appropriate waste facilities;
Minimising the use of bleaches, disinfectants and anti-bacterial products and in so far as possible using environmentally friendly products instead;
Avoiding the use of pesticides, fertilisers and other chemicals in the garden, unless absolutely necessary;
Where a home is not on a mains sewerage system, emptying and maintaining the septic tank regularly and ensuring that it is serviced by an authorised company.
Political Commitment Needed
Whilst individuals and businesses can make real changes, such as those listed, which will help safeguard our water sources, commitment is also needed at political level to support and fund national measures for the protection and management of our rivers, lakes, bays and ground water. Properly managed, these natural water sources provide not just clean, healthy water for people, industry and nature: they support livelihoods and provide enjoyment and recreation for local communities and for many thousands of visitors every year.
We are indeed privileged in Ireland to have a plentiful supply of healthy drinking water. Politicians and citizens must not take the source of this for granted.
Notes
Environmental Protection Agency, Water Quality in Ireland 2007–2009, edited by Martin McGarrigle, John Lucey and Micheál Ó Cinnéide, Wexford: EPA, 2010.
European Parliament and Council of the European Union, 'Directive 2000/60/EC of the European Parliament and of the Council of 23 October 2000 establishing a framework for Community action in the field of water policy', Official Journal of the European Communities, 22.12.2000, L 327/1. (http://eur-lex.europa.eu/LexUriServ/LexUriServ.do?uri=OJ:L:2000:327:0001:0072:EN:PDF) The Water Framework Directive was enacted in Ireland in 2003 through the European Communities (Water Policy) Regulations 2003 (S.I. 722 of 2003), subsequently amended in 2005 and 2008.
http://www.wfdireland.ie/documents.htm
Sinéad O'Brien is Coordinator of the Sustainable Water Network (SWAN), a network of twenty-five environmental organisations working together on water policy and protection issues. (http://www.swanireland.ie)