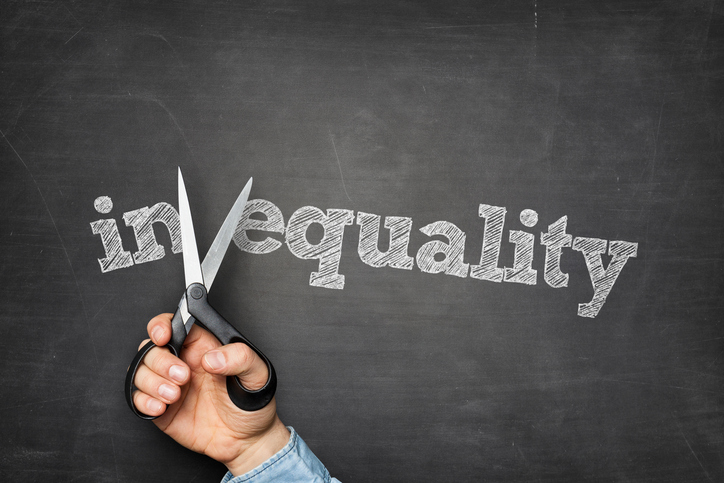 Introduction
The Report, Justice in the Global Economy, is a call to action. Whilst it combines the clarity and scholarship of an academic paper, its underlying tone conveys urgency. The Report calls on all of us in Jesuit works to wake up to the realities that humankind is facing and asks that as individuals, organisations, and institutions we turn our attention and energy to addressing these global challenges immediately.
This study and the urgency of its message is clearly stimulated by various statements of Pope Francis who is quoted as calling on all Christians to fight against 'an economy that kills' and to address 'the structural causes of inequality'.1 The Pope sees humankind as being at a pivotal point in history where, despite economic advancements, sizeable parts of the world's population are excluded from economic prosperity, are socially isolated and live in poverty.
Pedro Arrupe's Men for Others had a profound effect on how Jesuits (and lay colleagues) saw their ministry. The promotion of justice became integral to the work of the Jesuits who were convinced 'that love of God which does not issue in justice for men is a farce'.2 Justice in the Global Economy is an amplification of this sentiment and calls similarly for a 'dismantling of unjust social structures so that the weak, the oppressed, the marginalized of this world may be set free'.3
There is no doubt that the political, social and economic realities described in Justice in the Global Economy cry out for a courageous response and that schools as nurseries for the next generation have a critical role to play. For somebody who has responsibility for schools in the Irish Jesuit Province, I feel the challenge of what is described in the Report, but also an excitement that resonates with Pope Francis' call for the Church to have 'the smell of the sheep', to be 'hurting and dirty because it has been out on the streets'.4
Justice in the Global Economy recommends that Jesuit institutions, including our schools, be turned into forces for economic justice so that they powerfully impact on the status quo. It is recommended that: 'Advocacy for government action, for corporate responsibility, for inter-institutional cooperation must be characteristic of our response as individuals and as institutions. It should impact on who we admit to our schools, what we teach, who we hire, and what we do with the resources of our institutions.'5
This recommendation forces us to question and reflect on what we are already doing in our schools in response to the specific challenges posed by the Report. How, in our programmes, our school policies and structures, are we helping to alleviate the suffering of poorer communities? How are we helping to reduce inequality between those who are rich and those who are poor? How are we educating for ecological responsibility and preparing our students to be active agents for transformative political, social and economic change?
The following is a reflection on the Ignatian educational perspective from the viewpoint of the author who is delegate for education in the Irish Province. The point of interest for the reader will, I expect, be in what ways our students are being educated into an awareness of the major challenges of today presented in the Report, and what values and skills are they being equipped with to respond to these challenges.
Justice and Jesuit Education
For centuries, the only formal statement of what a Jesuit education aspired to be was found in the Ratio Studiorum. This statement was more a collection of regulations for school officials and teachers than an explicit statement of an educational philosophy. Nevertheless, the Ratio (or Plan of Studies) drew implicitly from the Christian humanist tradition of the time and its aim was the development of eloquence in the use of Latin. The Ratio was later revised (1832) to include the study of languages, history, geography, mathematics, and the natural sciences. However, it was not until Pedro Arrupe's Men for Others (1973) that the Jesuits began to articulate a vision of education for our times. In what was a very new and challenging statement, Arrupe declared:
Education for justice has become in recent years one of the chief concerns of the Church. Why? Because there is a new awareness in the Church that participation in the promotion of justice and the liberation of the oppressed is a constitutive element of the mission which Our Lord has entrusted to her …
Today our prime educational objective must be to form men-and-women-for-others; men and women … who cannot even conceive of love of God which does not include love for the least of their neighbours; men and women completely convinced that love of God which does not issue in justice for others is a farce.6
In 1993, Fr. Kolvenbach (29th Superior General of the Jesuits) ratified Arrupe's formulation and amplified its meaning, stating that our goal as educators is '… to form men and women of Competence, Conscience, and Compassionate Commitment' (otherwise known as the 4Cs). More recently, this formula has come to express the 'human excellence that the Society of Jesus wants for the youth that society has entrusted to us'.7
These qualities emphasise all that Jesuit education aspires to be. The competent person refers to the traditional academic dimension that leads to solid knowledge, to an adequate development of skills and abilities to reach an effective performance that can contribute to human fulfilment. The competent person is someone who is capable of creating, understanding and using knowledge and skills to live in his/her own context and transform it. In general terms, we can say that the emphasis here is on the development of the intellectual, the head.
A person of conscience discerns what is right, good and true and has the courage to act, takes a stand when necessary, has a passion for social justice and is an influential leader in the community. Here, the emphasis is on the heart – as it is informed by the head and moved by sensible experience. A compassionate and committed person responds to those in greatest need and walks with others to empower them, in solidarity and empathy. Such a person manifests a preferential love of the poor, which 'ought to manifest itself in deeds rather than words'.8
Reflection on lived and deeply felt experiences is always geared towards making a response, about moving to action. It is about empowering young people to realise that their efforts can make a difference. The focus for educators here is on the development of the hand.
In all, the intention is the full development of the person – in service of creating a just world. The framework of the 4Cs supplies a very practical means for engaging with the issues: competence related to gaining a clear understanding of structural injustices and global concerns; conscience related to both the need for and the proper mode of response to these challenges, and the compassionate commitment, to the actual process of responding in whatever form is possible and appropriate. If these then are the aims of Jesuit education, it can be seen how our schools are perfectly placed to be informed and exercised by the contents and challenges of Justice in the Global Economy.
The Ignatian Pedagogic Paradigm (IPP)
The dynamic of the Ignatian paradigm is critical. The process employed in the schools is one that involves the dynamic of the IPP – a paradigm based on experience, reflection and action – which combines processes of reflection and an active stance against social injustice. This pedagogic paradigm engages the intellect of the student (which we can understand as the head), moves the heart, and impels the person towards action (the hand). Within the context of the 4Cs (as detailed above), the movement is always towards action in the understanding that the compassionate person is capable of evolving from feelings of apathy towards a sense of justice, charity and solidarity.
As Christians, our educational reference for the compassionate person is the figure of Jesus, in his most human form: the one who is understanding of our personal weaknesses but steadfast in denouncing injustice. Our hope as educators is to aspire to developing the students to the point that they 'feel inhabited and accompanied by God the father, who sends us his spirit to help us discover and discern our life's trials …'
Education for Justice
Central to the schools' mission and vision is the recognition of a 'faith that does justice'. As part of this, the schools have an active, collaborative relationship with the justice sector of the Jesuit Province in Ireland – the Jesuit Centre for Faith and Justice (which focuses on penal reform, housing and homelessness, economic justice, church structural renewal, and environmental justice), the Jesuit Refugee Service, and the Irish Jesuit Missions office. Drawing on this collaborative relationship, a justice education coordinator incorporates four key areas of justice: development education, environmental justice, migrants and refugees, and social inequality. The programme seeks to embed justice across all areas of Jesuit school life from school programmes (curricular and co-curricular), teacher formation, and school policy and school structures.
Educating at the Margins
Justice in the Global Economy recommends that the Ignatian family should begin by 'directly engaging the poor and their causes' – by listening to the voices of poorer communities and communities on the margin, becoming companions, collaborating with their causes, and allowing poorer communities to 'teach us how we can best serve them'.9 Complementing the academic work of the classroom is a range of activities that allow students to become companions, to listen and give voice to, to become conscientised to the realities of life for people who are excluded, disadvantaged, and vulnerable in society. For example, students in Jesuit schools in Ireland:
undertake placements in hospital and home settings for older people, in support centres for people with disabilities and for youth groups, in refugee centres (Direct Provision Centres);
participate in workshops on the journey of refugees, modules on development education, and provide English language classes to people who have newly arrived into Ireland seeking asylum;
organise and undertake fundraising events (for agencies such as COPE, Focus Ireland and the Peter McVerry Trust ? agencies working with people affected by homelessness)10 and food distribution events,11 as well as home refurbishment projects for vulnerable people in their local communities.
These activities usually take place in collaboration with non-governmental organisations, such as the Society of St. Vincent de Paul (charitable Catholic organisation dedicated to tackling poverty), and the Peter McVerry Trust.
Our students show a keen awareness of the gravity of the world's ecological problems, and in response to these problems, Jesuits schools in Ireland are increasingly exploring ways of responding to the unfolding environmental crisis. Notable programmes include an award-winning urban farm project,12 and participation in the student-led Green-Schools programme,13 which embraces long-term, whole-school environmental action.
Two-week immersion programmes involve student and teacher visits to Lesotho, Kolkata (Calcutta), or Zambia, providing powerful experiences for all involved. During these visits, participants work, for example, in schools and orphanages, in hospitals for people who are dying, and in building programmes. Living with local families (where possible) and regular opportunities for reflection are critical elements of these experiences.
The 'doing of justice' in these circumstances enables students to gain a unique insight into their own faith; they see Christ's message for the poor with new eyes and they experience 'Church' in a fresh and dynamic way – on the margins, with poor communities, being the support and comfort that the Gospel speaks of.
For the teachers in our schools there is a capacity-building programme where they live and work in a partnered Jesuit school in Gulu, Uganda. The teachers are exposed to the realities of life for local communities, and for the students and teachers in the school, and have the opportunity to reflect on the mission and praxis of Jesuit education.
A New Spirituality
Justice in the Global Economy recommends a new spirituality, a new way of understanding personal well-being, based on a concern for justice and solidarity with people.
The schools aspire to conscientising students, helping them grow into 'compassionate and committed' human beings. Students study scripture, Catholic social teaching, various methods of prayer, and an exploration of other faiths. They also participate in an annual retreat experience which allows them time to reflect on their relationship with God, their sense of self and their relationship with others. Many retreat opportunities follow a 'magis' style14 related to themes on homelessness, prisons, and the plight of refugees. A number of senior students undertake a diocesan pilgrimage to Lourdes, accompanying and meeting the needs of people who are ill.
Teacher formation is a key challenge that the Province faces: how can we find and work with teachers who share in the values and priorities that animate the Society? Programmes of induction and formation are available; however, these need to resonate with an individual's sense of God, and their sense of idealism. Maintaining and developing a culture in the schools where this kind of discourse is normal and even attractive is an ongoing challenge.
The Challenges Ahead
The analysis and the response outlined in Justice in the Global Economy are clearly through a Gospel lens. The inspiration is Christian; the call to action is informed by a conviction that as brothers and sisters in the Lord we have a responsibility to one another that transcends national borders, religious creed and ethnic differences. Preserving this global perspective and inculcating it in the future generation cannot be presumed upon. In Ireland, the push towards secularisation of the school system means that, increasingly, the Irish State's Department of Education and Skills is involved in the management of schools, formerly left to school boards and trustees. This involvement compromises the school's ability to determine its own 'religious' culture.
A faith-based school works with the conviction that all aspects of the school experience are imbued with a spirit that shapes the mind and hearts of the students. Liturgy, chaplaincy, spiritual retreats, social outreach, co-curricular activity are all essential aspects of this educational focus – not optional extras. At present, the general drift of government policy is to neutralise the religious dimension. In Ireland, at least, this raises the important question of how can our schools preserve their unique faith-based characteristics and pursue their own particular mission.
Is Our Fee-paying School System Part of the Problem?
In his theological reflection in this issue of Working Notes, Gerry O'Hanlon SJ acknowledges that Justice in the Global Economy may provide an opportunity to revisit debates among Jesuits and colleagues about fee-paying schools.
Admission to a number of the Jesuit schools in Ireland is based on a fee-paying structure. For many, fee-paying private schools equate with elitism and are at odds with the Christian values that these same schools endeavour to espouse. The charge is often raised that fee-paying schools confer further advantage on those who already enjoy a considerable amount of privilege in our society. In other words, the charge is that the schools, for all their rhetoric and endeavours in the area of justice and equality, are arguably social instruments for preserving unjust social structures, contributing to and amplifying the inequalities documented in Justice in the Global Economy.
There is a tension between serving the most privileged in society and the document's call for our schools to be institutions that champion the cause of people who are living in poverty. This line of argument is valid and raises hard questions about our role and involvement in education: do our schools reinforce structural inequalities across wider society? Who is being served, and what values are ultimately transmitted?
©iStock photo
This is a complex topic. In Ireland, there is a demand for private schools that provide additional resources for their students. At one level, the option of a fee-paying education certainly helps amplify social inequality – students from a background with the necessary financial means are awarded the opportunity to avail of a well-resourced learning experience, furthering their potential in a system that values academic progress and achievement over other aspects of learning.
Yet, the issue is not just specific to fee-paying schools. Our non-fee paying schools also attract students with a similar socio-economic profile. Parents opt for these schools with the belief that they are good in terms of helping to realise the students' academic ability (and, with that, their entry into third-level education and future career progression). Part of the problem, therefore, lies with a wider societal context that measures the success of a school system by its academic results and bases personal achievement on academic success.
Our schools aspire to conscientise our students to the realities of injustice, poverty and environmental degradation, and we hope that they leave our schools as idealistic men and women with a deep commitment to justice. However, in a society where economic and financial markets have become increasingly significant in shaping our lives, individual success is often measured by the degree of participation in contributing to economic growth, and the types of employment activities that people engage in. This inevitably shapes and influences societal expectations of the role and responsibility of schools, as well as the employment opportunities available to students when they leave school.
Further, the pressured demands of academic studies, the competitiveness of the workplace and the hyper-stimulation of characteristics of contemporary society may provide little opportunity to actively live out a deep commitment to justice. Our students may also find themselves on university courses and in employment settings that neither nourish nor value the attitudes of mind and heart that were developed in school. The challenges that our students encounter, and the challenges to living out a sense of justice, are touched upon in other articles in this issue, in particular, articles from Catherine Devitt and Gerry O'Hanlon SJ.
Acknowledging the Tensions
At present, we live with these tensions knowing that schools provide unparalleled access to the possibility of influence. Our schools want to nurture critical thinkers who understand that with privilege comes responsibility. Therefore, at this critical juncture in history, we need to question whether the challenges of our time require – as Arrupe suggests in Men for Others and Justice in the Global Economy makes clear in its recommendations – a more radical response and commitment than has been demonstrated to date. As institutions of the Jesuits and as affirmed within the document, we need to evaluate whether or not we are creating leaders of positive change – and if not, why not.
The vast majority of fee-paying schools in Ireland have a Christian value base. Therefore, we also need to consider that if the various religious orders decided to make a strategic decision to depart what would fill the vacuum?
Overall, while we need to reflect on 'who we admit to our schools', Jesuit schools must acknowledge their power and privilege and utilise this platform for the wider common good. The challenges raised in this article bolster the need for our schools to work even more closely with Jesuit centres and ministries to 'turn a spotlight on significant policy issues and to pressure for greater international cooperation in reforms that would make the lives of people living in poorer communities more humane and just.'15 This should include advocacy for a fairer, inclusive and more equal educational system for all.
Conclusion
Our schools aspire to provide students with academic and experiential exposure to the issues of poverty, injustice and environmental degradation. Students are encouraged to reflect on their experience and to respond in considered and practical ways. The hope is that these habits of careful reflection and compassionate response will become deeply embedded, informing students' attitudes and values throughout their lifetime, their lifestyles, work choices, and relationships. The ultimate hope is that our students will become men and women for others, and that their education puts them at the service of the world.
Justice in the Global Economy calls on us to revisit how we are contributing to or challenging those who are the most privileged in Irish society. To evaluate our efforts, we need to acknowledge the tensions and work to improve our impact in challenging and responding to injustice.
Notes
Pope Francis (2014), Evangelii Gaudium, Vatican City: Vatican Press. (Available at: https://w2.vatican.va/content/francesco/en/apost_exhortations/documents/papa-francesco_esortazione-ap_20131124_evangelii-gaudium.html)
Arrupe SJ, P. (1973) Men and Women for Others. (Available at: http://onlineministries.creighton.edu/CollaborativeMinistry/men-for-others.html)
Ibid.
Pope Francis (2013), Evangelii Gaudium: Apostolic Exhortation on the Proclamation of the Gospel in Today's World. Vatican City: Vatican Press.
Promotio Iustitiae (2016) Justice in the Global Economy, No. 121, 2016/1. Rome: Social Justice and Ecology Secretariat, p. 32. (Available at: http://www.sjweb.info/documents/sjs/pj/docs_pdf/PJ_121_ENG.pdf)
Arrupe SJ, P. (1973) Men and Women for Others (Available at: http://onlineministries.creighton.edu/CollaborativeMinistry/men-for-others.html)
Secretariat for Education, Society of Jesus. (2015) Jesuit Education Aims to Human Excellence. (Available at: http://h2020.fje.edu/en/docs/Human%20Excellence%20ENG.pdf)
Ivens, SJ, M. and Hughes, SJ, G. (2004) The Spiritual Exercises of Saint Ignatius of Loyola. London: Newton Printing Ltd.
Justice in the Global Economy, p. 32.
Initiatives include a 'Fast and sleep-out' involving senior and former students during the Christmas period, as a way of drawing attention to the plight of homeless people.
Every Wednesday afternoon teams of pupils go out on soup runs. Sandwiches are made in the school canteen and these are distributed with soup in Dublin city centre. This activity runs right throughout the year and is student-led. The emphasis is not so much about giving people food as communicating respectfully with them and restoring a sense of dignity.
The Urban Farm Project in Belvedere school (Dublin city) is perhaps the most innovative of the measures to-date in relation to education for sustainability in our schools. On the rooftop of the school, students grow vegetables, farm fish and keep beehives
This programme is operated and co-ordinated by the Environmental Education Unit of An Taisce (leading environmental NGO in Ireland).
'Magis' is the Latin for 'more', calling us to depth and quality in what we do.
Justice in the Global Economy, p. 33.
Brian Flannery is Education Delegate, Irish Jesuit Province.