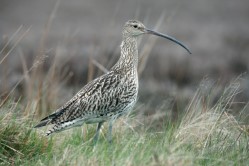 The Call of the Curlew
Many Irish people will be familiar with the call of the Curlew, a wading bird that breeds in rushy pastures and upland bogs through the summer months. For generations, it has been a cherished and familiar bird of Ireland's farmed and coastal landscapes. In 1990, Ireland still had a sizeable population of Curlew, at around 5,000 breeding pairs. Now, however, it is estimated that there may be fewer than 200 pairs left. Such has been the decline of the Curlew that its extinction as a breeding bird in Ireland now seems certain unless urgent action is taken. It has become one of two bird species nesting in Ireland that are globally threatened (the other is the Corncrake).
Anja Murray
Loss of suitable breeding habitat has led to this steep decline in the number of Curlew, with afforestation of upland pastures, mechanised peat extraction, intensification of grassland management and wind farm developments in upland areas all contributing to the difficulties for breeding Curlew. Fragmentation and degradation of breeding habitat have reduced numbers and as the remaining pairs occupy smaller areas they experience increased vulnerability to predators. Members of the public who have heard about the decline of the Curlew may be puzzled by the fact that during the summer months many Curlew may be seen along our coastlines. But these are migratory Curlew, the result of an influx which arrives in Ireland each year as early as June from continental and UK populations.
Decline and Possible Extinction of Species
Is the decline in the Curlew population here just one isolated case or is it indicative of a much broader trend? Unfortunately, the stark decline in numbers of this iconic bird is but one example of widespread degradation of native ecosystems and associated species declines.
There has been a 50 per cent fall in farmland bird populations across Europe. In Ireland, many previously common farmland birds have suffered major population and range declines since the 1970s. Many of these declines are a direct result of changes in farming systems over recent decades, changes which have been incentivised by EU farm payments. As a consequence, populations of distinctive and well-known farmland birds which are largely dependent on sensitive farming are in trouble across Ireland. This is not an issue only for those interested in nature: birds are indicators of the health of the natural environment; in a sense, they are the environmental equivalent of 'the canary in the coalmine'.
Recent national estimates indicate startling levels of decline in some bird populations in Ireland. As well as the Curlew, which fell by 84 per cent between 1993 and 2008, other species of breeding waders suffered dramatic declines over the same period: Lapwing and Redshank each fell by 88 per cent, and Snipe by 73 per cent. These population declines occurred in both the wider countryside and at special sites which had long contained good populations.1
It is forecast that, at the current rate of decline, and without intervention, breeding waders generally are likely to be at too low a level to maintain their populations by 2015. Possible extinctions could occur within thirty years, even sooner for Curlew.
Other, once common, farmland birds to have suffered major population declines since the 1970s include Kestrel, Barn Owl, Swift, Skylark and Yellowhammer. The Countryside Bird Survey has been monitoring commonly occurring bird species in Ireland since 1998 and it has shown some populations decreasing while others remain stable or even increase. However, when species become increasingly scarce their trends are unable to be monitored – and so instances where the Survey has been cited to report healthy farmland bird populations serve to misrepresent the bigger picture.
Grassland butterflies too have been victim of the same changes in land use. The European Grassland Butterfly Indicator: 1990–2011 (published June 2013) shows that grassland butterflies across Europe have declined by almost 50 per cent since 1990, reflecting a dramatic loss of grassland biodiversity.2 Ireland is no exception to this trend.
Losses such as those described result from changes in the way grasslands are managed, with flatter and most fertile land being utilised more intensively and the abandonment of farming practices in upland areas and on poorer land. Farmed semi-natural grasslands, such as upland pastures and lowland hay meadows, are rich in birds, pollinating insects and cultural heritage. Such grasslands depend on sensitive farming. These habitats are very different to the intensively managed and heavily fertilised grasslands that now dominate many agricultural landscapes.
Low input semi-natural pastures and meadows, including those vital for butterflies and breeding waders, are threatened and in decline. They are often part of farming systems which generate lower income from the market than other, more intensive, farming systems. These 'nature-rich' farming systems need to be supported if they are to be saved from abandonment or intensification. Maintaining nature-friendly farming practices in these areas would be better for the farmers working this land and for nature.
EU Agricultural Policy
The Irish Government is now facing important decisions regarding the allocation of resources under the forthcoming Rural Development Programme 2014–2020, which will be largely funded via Pillar II of the EU Common Agricultural Policy (CAP). CAP uses a significant proportion (40 per cent) of the European Budget (the 'Multi-Annual Financial Framework'). The huge amount of public funding associated with this policy needs to bring better value for money. Agri-environment schemes, 'the green backbone' of CAP, have a crucial role in supporting farmers to introduce wildlife friendly practices and have a proven delivery for the environment.
The design of agri-environment schemes and allocation of funding is being decided at the moment. Well-designed and soundly implemented agri-environment schemes can deliver targeted support to address known conservation problems, counter declining farmland bird populations and offer much-needed support to marginal farming communities who often find it difficult to attract outside investment to their area.
Conservation groups across Europe are calling for governments to ensure that the 25 per cent of existing farm support budgets set to go to agri-environment measures is spent properly on targeted and well-designed and implemented schemes which support farming to support nature. In other words, we are calling for public money to be spent on public goods. Recent decisions on related policies have favoured supports for the most intensive, and polluting, farming systems. Support measures have also been 'broad and shallow' achieving little environmental benefit for the significant allocation of taxpayers' money.
Food Security
The environment is important for food security. There is a growing need to produce food in a way that protects and maintains the key resource upon which food productivity depends: a healthy natural environment. The ability to maintain production into the future will depend greatly on the resilience of farmed landscapes in the face of climate change and the maintenance of ecosystem services such as pollination and soil fertility. Current market failures relate to declining health of the environment and it is this area which is most in need of public support through publicly-funded policy. Crucially, food insecurity is more about affordability of food and access to food than about the quantity of food produced.
Stemming the Decline
Why should we care about the loss of birds and butterflies or about the decline of healthy natural habitats? There are many answers to this question, not least of which is the intrinsic value of naturally occurring species and habitats, regardless of their use and function for humans. Biodiversity 'indicators' are commonly used to assess the state of the wider environment. Recent global efforts to monitor the health of the natural world have shown that despite some local successes and increasing responses to known threats (including efforts to maintain the extent and biodiversity coverage of protected areas; sustainable forest management; policy responses to invasive alien species, and biodiversity-related aid), the rate of biodiversity loss does not appear to be slowing. Assessment of global biodiversity indicators tells us that much needs to be done to step up collective action for nature conservation.
The most pressing challenges are to reverse detrimental policies, integrate biodiversity into land-use planning, incorporate economic value adequately into decision-making, target funding where the evidence base shows it is most needed, and implement sound policies that tackle biodiversity loss.
In relation to the specific example of the Curlew, Lapwing, Redshank and Snipe, we know that there is a great deal that Ireland can do to stem declines. Providing support for farmers to manage semi-natural grassland habitat is one example of the kind of positive action that is necessary. This would entail providing incentives for sympathetic grassland management through existing European funding mechanisms such as CAP.  In addition to helping these and other farmland birds, rolling out such actions would help other wildlife, such as butterflies, bees and wild plants, and would contribute much to maintaining the cultural and social heritage of many of Ireland's smaller farms and extensive farming systems.
The Importance of Ecosystems
But what of the bigger picture: the disconnect of policies and practices from the natural basis of productivity and prosperity? A concept that has strengthened efforts to move nature conservation into the centre of public decision-making is that of 'ecosystem services': the recognition of the wide-ranging and hugely valuable benefits to humans which are provided by nature.
'Ecosystem' is a term used to describe a community of plants, animals, fungi and micro organisms that live, feed and interact together in the same area or environment. Peat bogs, mountain pastures, rivers, lakes, sand dunes and coastal mudflats are all examples of ecosystems which provide important services to society in Ireland. Many wetlands, for example, help protect towns from flooding. Clean lakes and rivers provide both fresh water and fish for recreation and consumption. Biodiversity in farmed landscapes helps to maintain soil fertility and control pests and diseases. Our agriculture depends on biodiversity and ecosystem services, as do marine and freshwater food resources.
Healthy peat bogs and other wetlands filter and purify water, making it cheaper to treat for human consumption. It is because of this benefit that water companies in Northern Ireland are funding peatland conservation which eases the task of providing clean drinking water to the populace. Intact peat bogs also absorb greenhouse gasses from the atmosphere thus helping to combat climate change. This important role is reversed when peat bogs are cut and degraded. In general, however, nature-based solutions to climate change have not been given much recognition in Ireland to date.
Valuing and Protecting Biodiversity  
So what should we, as a society and in practical terms, be doing to combat the drastic decline in biodiversity? To begin with, we need to recognise and value the goods and services provided by nature. A report commissioned by the (then) Department of the Environment, Heritage and Local Government, and published in 2008, gives a preliminary estimate of  the value of ecosystem services in Ireland, in terms of their contribution to productive output and human utility: it calculated that this amounted to over €2.6 billion per annum.3 This figure is based on an assessment of just a few key examples of ecosystem services and as such is a very conservative estimate.
Regarding the global situation, The Economics of Ecosystems and Biodiversity (TEEB) project seeks to draw attention to the economic benefits of diversity and to promote the systematic assessment in economic terms of both the contribution of biodiversity to human well-being and the costs inherent in biodiversity loss.4 In its first report,5 TEEB drew attention to the findings of the Cost of Policy Inaction (COPI) study, which was commissioned by the Directorate-General for the Environment of the European Commission and published in 2008. This study estimated that by 2050 the economic cost in global terms of not halting the current trend in biodiversity loss could be equivalent to a staggering US$14 trillion per annum, or 7 per cent of global GDP.6 Yet, even as our knowledge of the value of healthy natural habitats grows, we are still continuing to destroy nature at an alarming rate.
It is clear that we need to move on from a perception that protecting nature runs counter to economic development. Instead, we need to recognise that nature provides a basis for our well-being and for long-term jobs: a sound future for people requires a sound future for wildlife. Public money should deliver a wide range of 'common good' benefits for society, rather than priority being given to short-term and narrow economic interests. Such common good interests include mitigating against climate change and restoring ecosystems, so as to support delivery of ecosystem services, sustain resilient communities, provide sustainable jobs and ensure high quality of life. Nature is at the heart of our future prosperity.
On a more immediate and tangible scale, leaders of Ireland's agri-food industry have identified that a significant share of the country's export-led future prosperity is to be based on agriculture. Without improving the delivery of targeted measures that enable farming to support biodiversity, we can expect to see continuing declines in farmland bird populations in the immediate future. This will be accompanied by losses in ecosystem services and will damage the 'green' image that Ireland values so greatly.
Public policy, especially in the areas of agriculture and food, forestry and aquaculture, planning and development, must reflect the importance of maintaining a healthy natural environment. If we are serious about wanting to reverse the degradation of the natural environment, we need to incentivise positive land management and make better use of existing schemes and publicly supported policies.Fisheries policies must bring an end to overfishing and damaging fishing methods; healthy seas can secure a future for fish, other wildlife and our fishing communities. In relation to climate change, nature must be recognised as a natural ally: healthy ecosystems are more resilient to a changing climate and can help communities adapt to the changes we are already seeing.
Need for Action – Now
Our society needs a healthy environment to thrive and build an economy that supports jobs, our health and our future. The true cost to society of environmental damage needs to become transparent across all sectors. And all sectors need to address the loss of the biodiversity and the natural capital on which we all depend.
The value to society of nature protection needs to be fully recognised, and a support system to assist implementation of preventive and restorative measures, including new legislation, is needed. Our landscapes need to be safe places, poison-free for both people and wildlife, while providing opportunities for tourism, agriculture, communities and business.
By investing in the network of protected nature conservation sites designated under Natura 2000,7 and ensuring access to resources only to those who behave in a socially and environmentally responsible manner, we can help protect nature for future prosperity. An end to environmentally harmful subsidies and a shift of taxation from labour to pollution and resource consumption are urgently needed and should form the basis of job creation and the 'greening' of national and European economies.
On a community scale, there is much that can be done to support nature and restore biodiversity. Many communities recognise the beauty and recreational benefits of special natural places in their locality, whether a native woodland, a floodplain wetland, a mountain range or coastal heath land. However, most do not appreciate the full value of these habitats in terms of the wider ecosystem services they provide.
Appreciation of the underlying ecology and merit of such places can be the basis for collective, optimally targeted, local action. Through knowledge and a sense of stewardship, a greater mandate will arise for effective national action. Only then will we see adequately-resourced and correctly-targeted policies which implement positive solutions to conservation challenges. There is no time for complacency: Ireland's biodiversity needs action, now.
Notes
C. Lauder and A. Donaghy, Breeding Waders in Ireland: A Review and Recommendations for Future Action, Dublin: BirdWatch Ireland, 2008 (http://www.birdwatchireland.ie/).
European Environment Agency, The European Grassland Butterfly Indicator: 1990–2011, Luxembourg: Publications Office of the European Union, 2013 (http://www.eea.europa.eu/publications/the-european-grassland-butterfly-indicator-19902011).
Craig Bullock, Conor Kretsch and Enda Candon, The Economic and Social Aspects of Biodiversity – Benefits and Costs of Biodiversity in Ireland, Dublin: Stationery Office, 2008 (http://www.cbd.int/doc/case-studies/inc/cs-inc-ireland-en.pdf).
The Economics of Ecosystems and Biodiversity (TEEB) website is at: http://www.teebweb.org/
TEEB, The Economics of Ecosystems and Biodiversity: An Interim Report, 2008. (http://www.teebweb.org/publication/the-economics-of-ecosystems-and-biodiversity-an-interim-report/#.UjwtTp1OO70)
L. Braat and P. ten Brink (eds.), The Cost of Policy Inaction: The Case of Not Meeting the 2010 Biodiversity Target, Brussels, May 2008, p. 136. (http://www.globio.info/downloads/85/Report%20-%20Braat%20&;%20ten%20Brink%20eds%20(2008)%20The%20Cost%20of%20Policy%20Ina.pdf)
Natura 2000 is a network of important ecological sites across the European Union. It is comprised of areas known as Special Protection Areas (SPAs), which are designated under the EU Birds Directive (2009), and Special Areas of Conservations (SACs), which are established under the Habitats Directive (1992) and are designated for species other than birds, and for habitats.
Anja Murray is part of the Policy and Advocacy Team in BirdWatch Ireland. BirdWatch Ireland is an environmental NGO, working altruistically for birds and biodiversity in Ireland. (http://www.birdwatchireland.ie/)