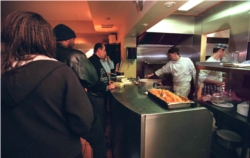 Direct Provision
Prior to 2000, people seeking asylum in Ireland were able to avail of mainstream social welfare payments, such as supplementary welfare allowance and rent supplement; in other words, they were assessed for entitlement along the same criteria as people already resident in the country. However, in the late 1990s the arrival of record numbers of people seeking the protection of the Irish State led to a change in policy in relation to the provision of accommodation and income for applicants during the processing of their claim. The result was the introduction of a system of 'direct provision'.
Eugene Quinn
Under this system, people applying for asylum are accommodated in specified accommodation centres, which provide food and essentials such as heating, lighting and washing facilities. The system is under the administration of the Reception and Integration Agency (RIA) of the Department of Justice and Equality.
New applicants are initially accommodated in a Reception Centre which is in Dublin, and are then allocated a place in one of the thirty-four accommodation centres located throughout the country. There are centres in sixteen of the country's twenty-six counties, with several centres in the most populous locations – Dublin, Cork, Galway, Kerry, Limerick, and Waterford. Direct provision accommodation includes purpose-built centres; buildings that were formerly used as hotels, guesthouses, hostels, convents, or nursing homes; a mobile home site, and a former holiday camp. Only two accommodation centres are self-catering.
In most cases, the parent or parents of young children will be allocated just one room in the accommodation centre for their entire family; single people usually have to share their living space with one or more residents of the same gender. Meals are provided at set times in a common dining room. Residents are not allowed to cook their own food.
A weekly cash allowance of €19.10 per adult and €9.60 per child is payable to asylum seekers in direct provision centres.
Duration of Stay
When 'direct provision' was introduced in 2000, it was not envisaged that people seeking  asylum would find themselves living long-term in that system. The then Minister for Justice, John O'Donoghue TD, stated that a person would remain within the system on 'a short-term basis (not more than six months)'.1 But the reality turned out to be very different.
In a response to a Dáil question in April 2012 concerning the length of time asylum applicants spend in direct provision accommodation, the Minister for Justice, Equality and Defence, Alan Shatter TD, stated: '… it is  not possible to specify exactly how long each person has resided in RIA accommodation. Protection applicants are not required to live in RIA accommodation and in many cases, may move in and out of the direct provision system as their circumstances change.'2 However, in practice, the vast majority of asylum applicants have no option but to enter and remain in direct provision, since they do not have the income that would enable them to independently provide accommodation, food and other essentials.
Table 1 below sets out the data provided by the Minister in his response to the Dáil question in April 2012. In the case of almost 90 per cent of the 5,215 people then in direct provision, at least one year had elapsed since they first applied for asylum. In the case of over a quarter of applicants, it was longer than five years since they first applied.
More recent statistics published by RIA, and relating to November 2012, reinforce this picture of very lengthy periods in direct provision. In that month,well over half (60 per cent) of residents had been more than three years in accommodation centres and the average length of stay was three years and eight months.3
Table 1: Length of Time since Initial Application for Asylum, April 20124
| | | | | | | | |
| --- | --- | --- | --- | --- | --- | --- | --- |
| < 1 Year | 1-2 Years | 2-3 Years | 3-4 Years | 4-5 Years | 5-6 Years | 6-7 Years | >7 Years |
| 539 (10.3%) | 630 (12.1%) | 770 (14.7%) | 945 (18.1%) | 812 (15.5%) | 670 (12.8%) | 397 (7.6%) | 272 (5.2%) |
Lives on Hold
People seeking asylum and those working with them report that residing long-term in direct provision involves significant human costs, in terms of impact on physical and mental health, family relationships and ability to participate in society. The negative effects on children (around one-third of residents5) are of particular concern.6
Direct provision accommodation does not provide a normal family environment for raising children. A prolonged period living in this institutional setting, which is often characterised by inadequate and overcrowded physical conditions, can inhibit a child's healthy growth and development. For example, children and their parents have to share accommodation and common facilities with a large number of strangers.7 Often, children will grow up without the memory of their parents cooking a family meal. Parents' roles are further diminished by the fact that they are required to channel even the most basic decisions relating to their children's welfare through the management of the accommodation centre in which they are staying.
Living in direct provision becomes a defining element of a child's identity growing up. Services and activities are provided for them because they are asylum seekers. Unintentionally, such targeted provision can undermine integration by setting children apart from their peers. Lack of resources and the remote location of some centres may leave children socially excluded and cut off from the out-of-school activities of their classmates.
Adult asylum applicants face not just the restrictions inherent in living in direct provision accommodation, but other significant constraints, relating to work, income and education.
Asylum seekers in this country do not have a right to work. This has profound implications for their daily life – denying them the dignity of seeking a job and the chance to earn an income and support themselves. At the same time, this restriction ensures life in direct provision is extremely difficult, due to boredom and the lack of opportunity to use skills and qualifications and to be involved with the wider community. Ireland is now one of only two European Union countries which do not allow people seeking asylum to take up employment, irrespective of the length of time they await a decision on their asylum application.
Unlike other social welfare payments, the cash allowance for people in direct provision centres has remained at the rate at which it was set when the system was introduced over twelve years ago. In addition, exceptional needs payments under the Supplementary Welfare Allowance Scheme, which may be made for occasional expenses (for example, to provide clothing or for back-to-school expenses), have been significantly curtailed in recent years. Moreover, people seeking asylum are not entitled to Child Benefit.
The ability of asylum applicants to participate in education beyond second level is also restricted, since they are not eligible to have their tuition fees paid in respect of post-Leaving Certificate or third-level courses under the Free Fees Initiative.
It is unsurprising, then, that people seeking asylum often feel that their lives are 'on hold' while they wait for a final decision in regard to their application for protection.
Experience of JRS Ireland
The mission of the Jesuit Refugee Service (JRS) is 'to accompany, advocate and serve the cause of refugees and forcibly displaced persons worldwide'. In this country, JRS Ireland supports many individuals and families seeking asylum. Each week, JRS staff members and volunteers visit eleven direct provision accommodation centres (located in Dublin, Kildare, Laois and Limerick) to provide pastoral care and support. In response to needs identified on the ground, JRS Ireland has developed a range of services and activities, including language classes, training courses, homework clubs, an Integration Support Group and an extensive Summer Programme of activities for children.
In the experience of JRS Ireland, the length of time people have to spend in the direct provision system is the single greatest challenge in attempting to deliver appropriate services. An example of the problems posed relates to asylum seekers' participation in courses and activities. In the past, asylum seekers were often reluctant to make a commitment to embark on a long-term course or activity because they 'would not be around to finish it': in other words, before the course or activity would have concluded, a decision would have been reached regarding their status, and they would have moved out of the asylum system.
As the years have gone by, however, the situation has changed radically, and asylum seekers' reluctance to do a course now often springs from the fact that they will continue to be in the asylum system beyond the duration of the course. And so some will say: 'Why should I bother? It will not make any difference. I will still be here afterwards, anyway'. With no definite end point, there is a loss of hope and meaning in people's lives, with a resultant loss of motivation and energy.
People living long-term in direct provision often express their sense of despair by saying that if they were in prison they would at least know when they could expect to be released. One person working with asylum seekers summed up the impact of prolonged waiting and uncertainty as follows: 'For so many, you notice as the years have gone by how the light has gone out of their eyes'.
Direct Provision Stories
The following case studies, prepared by JRS Ireland outreach workers, give an insight into the reality of living long-term in direct provision. Names and identifying details have been changed but the stories are real.
Case Study 1
Theo is from an African country and has been in the direct provision system for over four years. His application for refugee status was turned down, and he subsequently applied for 'leave to remain' on humanitarian grounds. Like many others, he has been waiting for more than two years for a decision on this application.
I fled my country because I feared for my life. But since I have come to Ireland, I have found that there is more than one way to kill a person. I feel that while I am waiting for a decision these last four years I have been dying slowly.
He says that life in direct provision is very difficult, with the hardest thing to face being the ban on taking up employment and the resulting boredom:
I am deeply frustrated as an asylum seeker that I cannot work. I want to work. I do not want to be a burden on anybody. I want to pay my own way. About a year ago, I found myself getting depressed because there was no reason to get up in the morning. No reason to get out of bed. This is not good for a person. I lost hope and started to think bad thoughts.  
Fortunately, a new project has helped Theo in the last twelve months. With the assistance of JRS, he started and completed training courses as a football coach for children under twelve. The next stage is to qualify for coaching youth teams; this is more challenging and requires him to volunteer as a coach with local clubs.
Training to be a coach has saved me. It has given me back hope. I dream of coaching my own team. I am exercising hard and think about tactics while I run … In the evenings, I watch professional games with new eyes – as a coach; I'm trying to spot the tactics being used. … I have gone to all the clubs nearby to volunteer to get the coaching experience I need to go to the next level.  
Theo worries about other residents who do not have a project and says that life in direct provision has institutionalised many of them. They are bored and de-motivated. He recalls how, before becoming involved in coaching, he too had become deeply depressed by his situation, so much so that he had stopped telephoning his family in his homeland.
I had nothing to say. I was embarrassed to tell them that I was not working, not doing anything useful, just getting up, eating and going to bed. I could not stand to hear the disappointment in my mother's voice. So I stopped calling her…. I feel really sorry for the guys who are married and have children. It is terrible they have to call home and always the same story – no work, no money, just waiting for the Department of Justice!
Case Study 2
Lisa and her partner came to Ireland in 2004 and applied for asylum. Life in their home country had become unbearable for political and family reasons. She says: 'We had to leave – or not live'.
Lisa and her partner lived in Hostel A for four months and were then transferred to Hostel B. They lived there for just over three years and during that time she gave birth to two children. Her relationship with her partner became tense and difficult and eventually they separated. She says many of the problems in their relationship arose because of the difficulty of living in a hostel.
Lisa and her children were then transferred to Hostel C, where they lived for two years. During that time, she applied for, and was granted, self-catering accommodation. She says the time they spent there – thirteen months – was the best she had experienced since leaving home. She and her children were happy and all was going well until they were told the self-catering village was to be closed. They were then transferred to another hostel, this time in Dublin, and have now been there for two years.
Lisa found this return to direct provision almost unbearable and her sense of frustration and disappointment at the reversal in her situation was heightened when she learned that some families were still living in the self-catering centre.
Aside from the food and 'lodgings' provided by the hostel, Lisa receives just €38.30 a week for herself and her two children; with such a limited amount of cash at her disposal, she finds it very difficult to meet the various expenses that arise for a young family, especially at times such as Christmas.  She says:
You know, if we had our own accommodation, I could cook what my children like and also get new clothes for them.
As well as caring for her two children, Lisa has undertaken courses to further her own education and is doing voluntary work three days a week. More than eight years on from arriving in this country, she says:
When I see other people who came to Ireland after us get their papers, I feel almost hopeless and yet, for the sake of my children, I cannot lose hope.
Case Study 3
'When are we getting our 'papers'?' This has become the constant question of Patrice. Predictably, his face becomes more worried and his tone more anxious when he sees people around him getting their 'papers'.
Patrice's other recurring question relates to why, unlike his school friends, he is regularly taken out of class by his parents. This happens every few weeks, and then he and his parents and sister go to an office where his parents must 'sign on'.
Patrice is seven years old. He was born in Ireland. He and his younger sister are the children of asylum-seeking parents. Since arriving in this country, his mother and father have lived in direct provision accommodation. They share one bedroom with their son and daughter. They are among some 100 people from a dozen countries in three continents who have been assigned to this particular centre.
Patrice's parents are now in their eighth year in Ireland. Both have professional qualifications but as asylum applicants they are prohibited from obtaining employment. Inevitably, their professional skills have diminished, while opportunities to update their training are practically non-existent. Inevitably too, there has been an ongoing erosion of their self-esteem.
This family has gone through all stages of the asylum application system – initial interview, rejection of their application for asylum, an appeal to have this reversed, and, later, a request for 'leave to remain' on humanitarian grounds. In early 2009, Patrice's parents were informed by the Department of Justice that their application had been refused. Then came notice of the Department's intention to deport them, with the requirement that, in the meantime, on appointed dates, the mother and father, accompanied by their children, must 'sign on' with the immigration authorities. This they do faithfully, while attempting to have the refusal of their application for 'leave to remain' reviewed.
Meanwhile, seven-year old, Irish-born, Patrice continues to ask:  'When …?'
Length of Asylum Process: Why…?
The case studies outlined above vividly illustrate some of the consequences for asylum-seeking men, women, children, and families of living long-term in direct provision. These stories give rise to an obvious question: why does the asylum application process take so long?
The official perspective on this issue is indicated in the written answer by the Minister for Justice, Alan Shatter TD, to the Parliamentary Question referred to earlier. The Minister's response suggests that delays in making a final determination are related to the fact that applicants may initiate proceedings for a 'judicial review' of a decision against them – for example, rejection of their claim or the issuing of a deportation order. The Minister further stated that delays were also caused by the staggering of asylum applications for children and by difficulties in executing deportation orders.8 Essentially, the position adopted by the authorities suggests that it is the individual choices of asylum applicants, especially decisions to apply for judicial review, which lead to lengthy delays in completing the process.
Advocates for asylum seekers have a very different view as to what causes the delays. They point to significant structural faults within the asylum process, especially the continued absence of a 'single procedure', under which a person seeking protection could make one application, which would be assessed first on whether it met the requirements for granting refugee status, and failing that on whether it met the criteria for the granting of some other form of protection. Under the system operating in Ireland at present, applicants for protection must first apply for refugee status, and only after that has been refused, or where they have voluntarily withdrawn from the asylum process, are they permitted to apply for 'subsidiary protection' or for humanitarian leave to remain.9
NGOs and other advocates also suggest that two key weaknesses in the earliest stages of the current system for adjudicating applications are major factors contributing to the length of the process, since they result in large numbers of applicants resorting to the courts to challenge either the decision made or the decision-making process.
Firstly, the protection system does not generally provide legal advice and representation10 at the earliest stages of the process and this may lead to an applicant failing to present their case fully and adequately to the Office of the Refugee Applications Commissioner (ORAC), which is responsible for making the initial decision on an application. There are strong arguments, on both humanitarian and financial grounds, for 'frontloading' legal advice and representation to the earliest stages of the process.11
Secondly, the operation of the Refugee Appeals Tribunal, which decides appeals made by asylum seekers whose application for refugee status has not been recommended by ORAC, has been criticised for alleged bias in its decision-making and lack of independence and transparency.12 There have been calls by advocacy groups over recent years for the Tribunal to be replaced by a new, independent and more transparent appeals mechanism.
The judicial review process itself has now become characterised by long delays – and for applicants these delays translate into lengthier times spent in direct provision. The scale of the problem is indicated in a September 2011 article in The Irish Times by Justice Catherine McGuinness. She pointed out that as the High Court returned for a new term it faced a backlog of more than 1,400 asylum and immigration cases. Noting that such cases constituted almost 60 per cent of all judicial review cases before the courts, she said that applicants were waiting 'approximately 27 months for an initial hearing and a further four months for a full hearing'.13 She argued that it was time for a reform of the asylum and immigration systems 'that would lessen the need for recourse to the courts'.
Conclusion
A State has, of course, a right to control its borders but that right is not unrestricted. Natural justice requires that a fair and transparent asylum process is provided and that applications within that system are processed and concluded within a reasonable period of time. The State cannot evade its ultimate responsibility to ensure that such a system is in place.
It cannot be considered acceptable that in Ireland today such a high proportion of asylum applicants experience a prolonged wait until their claim is determined, and that for the duration of this process they live in direct provision accommodation, with all the restrictions and drawbacks of such institutional living and with the added burden of being debarred from taking up employment.
The delays in the court system in regard to obtaining leave to seek a judicial review and in hearing review cases themselves have become a major factor in prolonging the time that elapses before a final decision is made. Such delays are extremely costly in human terms for the people seeking protection and in financial terms for the State.
It is clear from its judgment in the case of Okunade v Minister for Justice Equality and Law Reform & the Attorney General,14 issued in October 2012, that the Supreme Court considers revised and updated legislation on asylum and protection to be important and urgent if inordinate delays in the process, including the judicial review process, are to be avoided (see summary below). In fact, of course, a wide range of groups and agencies – including Irish NGOs, UN bodies, the Council of Europe's Commissioner for Human Rights, the European Commission against Racism and Intolerance (ECRI)15 – have, over the past decade, repeatedly called for such legislation.
The Immigration, Residence and Protection Bill 2008, and the later revised 2010 Bill, provided for updated legislation, including a single procedure for processing applications for protection. However, it would seem that the necessary political will and sense of urgency regarding the finalising of new legislation in this area is lacking, given that it is now five years since the publication of the 2008 Bill, which itself was some years in preparation. In a letter to Nils Muiznieks, Council of Europe Commissioner for Human Rights, on 29 November 2012, the Minister for Justice, Alan Shatter TD, stated that a new and revised Bill, providing for a single procedure, would be published 'as soon as possible in 2013'.16
The other issue that requires urgent reform is, of course, the direct provision regime itself. A system which may have merit as a form of short-term secure accommodation will become one that is inhumane and cruel if it has to be endured on a long-term basis. The prohibition on asylum seekers working at any stage in the process is draconian and unfair, when the State bears responsibility for failing to make a final decision on an application within a reasonable timeframe.
As already noted, children constitute one third of the population residing in direct provision centres. The long-term consequences of growing up in the institutionalised environment of direct provision have to be a matter of concern. Irish society has a clear duty of care to these children. Their lives should not remain on hold. We as a society should feel compelled to provide an answer to the question of seven-year old Patrice:  'When … ?'
Supreme Court Judgment October 2012
Okunade v Minister for Justice Equality and Law Reform & the Attorney General [2012] IESC 49
A judgment of the Supreme Court in October 2012, Okunade v Minister for Justice Equality and Law Reform & the Attorney General, drew attention to several features of the delays which so often characterise the asylum process at present. The case was brought by Ms. Okunade, a Nigerian national, and her four-year-old son, Daniel, who was born in Ireland;  it was an appeal against the High Court's rejection in November 2011 of an application for an injunction to prevent the deportation of the mother and child. In its judgment, the Supreme Court overturned the High Court decision, stating that the disruption to family life which deportation would pose for the boy, 'who has known no country other than Ireland' and who could not be blamed for long delays in dealing with his case, was sufficient to warrant the injunction being granted.
The Supreme Court judgment stated:
It is hardly the fault of that child that the substantial lapse of time involved in this whole process has led to such a situation. Rather that current status is a function of the lack of a coherent system and sufficient resources. (n. 11.2)
In the course of its judgment, the Supreme Court commented in some detail on the length of time it is taking to complete the processing of applications for protection. It described the statutory regime for dealing with applications, and the statutory regime governing challenges in the courts by applicants seeking to reverse adverse decisions, as 'cumbersome'  and 'apt to add to the difficulties with which the courts are faced in considering such challenges'. (n. 1.1)
The judgment highlighted specifically the delays related to the judicial review process arising from the fact that a person wishing to make an application for a judicial review must first apply to the courts to obtain leave to seek such a review. Given the number of applications, and the fact that many are opposed by the State, limited High Court resources are tied up at this stage of the process and so 'it can take some significant time before the court can conduct even the initial assessment required to decide whether leave to seek judicial review should be granted'
(n. 1.2). If leave is granted, then there is a further waiting period for the actual judicial review hearing.
With reference to the protection process as a whole, the Supreme Court acknowledged that the precise way in which applications for protection should be determined is a matter to be decided by the Oireachtas, but nonetheless said:
… it is appropriate to emphasise the desirability of there being a single and coherent structure within which all relevant decisions are made as a result of a single process. (n. 6.2)
It suggested that the absence of such a system resulted in 'multiple challenges at different stages' of the process, a greater absorption of court time in dealing with cases brought, and significant lengthening of the overall process. (n. 6.2)
A change to a single structure, the Supreme Court suggested, would be likely to 'simplify the process and … make any review by the courts of decisions made in this field significantly more straightforward.' (n. 2.7)
The Supreme Court summed its view on the importance of shortening 'the overall timescale' within which a final determination is made as follows:
If persons have a legitimate case to remain in Ireland, on whatever basis, then the sooner a positive decision is made the better for all concerned. If persons do not have a legitimate case to remain in Ireland then it is very much in the interests of the State that a final decision to that effect is made as quickly as possible and acted on within a timeframe that does not give rise to persons in the system putting down roots. If people are not to be permitted to remain in Ireland then the final decision in that regard should be made and acted on as quickly as possible consistent with fair process. If such persons are to stay then they are also entitled to know that fact as quickly as possible. (n. 6.7)
Notes
Press release issued by the Minister for Justice, Equality and Law Reform, John O'Donoghue TD, reported in The Irish Times, Tuesday, 28 March 2000.
Written answer to Parliamentary Question by Aengus Ó Snodaigh TD (PQ 18024/12), Wednesday, 18 April 2012, Dáil Éireann Debate, Vol. 761, No 3.
Reception and Integration Agency, Monthly Statistics Report – November 2012, Dublin: Reception and Integration Agency, Department of Justice and Equality.
Written answer to Parliamentary Question by Aengus Ó Snodaigh TD (PQ 18024/12), Wednesday, 18 April 2012, Dáil Éireann Debate, Vol. 761, No 3.
Reception and Integration Agency, Monthly Statistics Report – November 2012, op. cit.
A report published by the Irish Refugee Council in 2012 draws attention to a wide range of concerns regarding the accommodation of children in direct provision centres. Among the many issues highlighted were overcrowding, poor physical conditions, the impact of insufficient family income, lack of adequate play facilities, difficulties relating to participation in education, and concerns about child protection. See: Samantha K. Arnold, State Sanctioned Child Poverty and Exclusion: The Case of Children in State Accommodation for Asylum Seekers, Dublin: Irish Refugee Council, 2012.
The fears and anxieties of asylum seeking parents and children living in shared accommodation are well summarised in: Breda O'Brien, 'Inhumane asylum-seeker system needs radical reform', The Irish Times, Saturday, 23 March 2013.
Written Answer to Parliamentary Question by Aengus Ó Snodaigh TD (PQ 18024/12), Wednesday, 18 April 2012, Dáil Éireann Debate, Vol. 761, No. 3.
See Eugene Quinn, 'The Immigration, Residence and Protection Bill 2008: Well Founded Fears?', Working Notes, Issue 59, November 2008.
Applicants for protection may access free legal information through the Refugee Legal Service, but officers of the service are not usually qualified in law. Only if the applicant is considered to be particularly vulnerable (for example, a minor) will the RLS provide specific advice on filling out the detailed questionnaire which will form the basis for the person's 'substantive' interview with the Office of the Refugee Applications Commissioner. Again, only if the applicant is deemed vulnerable, will he or she be accompanied at the substantive interview by a solicitor from the Refugee Legal Service. See: Elizabeth O'Rourke, '"Frontloading": The Case for Legal Resources at the Early Stages of the Asylum Process', Working Notes, No. 62, November 2009.
Ibid.
The inadequacies of the Tribunal were highlighted in the Supreme Court judgment, Nyembo -v- The Refugee Appeals Tribunal & anor, 19 June 2007, [2007] IESC 25.
Mrs Justice Catherine McGuinness, 'Effective asylum reforms would reduce reliance on courts', The Irish Times, Friday, 1 September 2011.
Okunade v Minister for Justice Equality and Law Reform & the Attorney General [2012] IESC 49.
In its 2012 report on Ireland, the European Commission Against Racism and Intolerance (ECRI) urged the Irish authorities to: 'adopt as soon as possible the Immigration, Residence and Protection Bill so as to (inter alia) put in place one procedure for dealing with applications for asylum and subsidiary protection'. (European Commission Against Racism and Intolerance, ECRI Report on Ireland, Fourth Monitoring Cycle, Adopted on 5 December 2012, Published on 19 February 2013, Strasbourg: Council of Europe, p. 25)
Alan Shatter, 29 November 2012, 'Letter to Nils Muiznieks, Council of Europe Commissioner for Human Rights'.
Eugene Quinn is National Director, Jesuit Refugee Service Ireland.