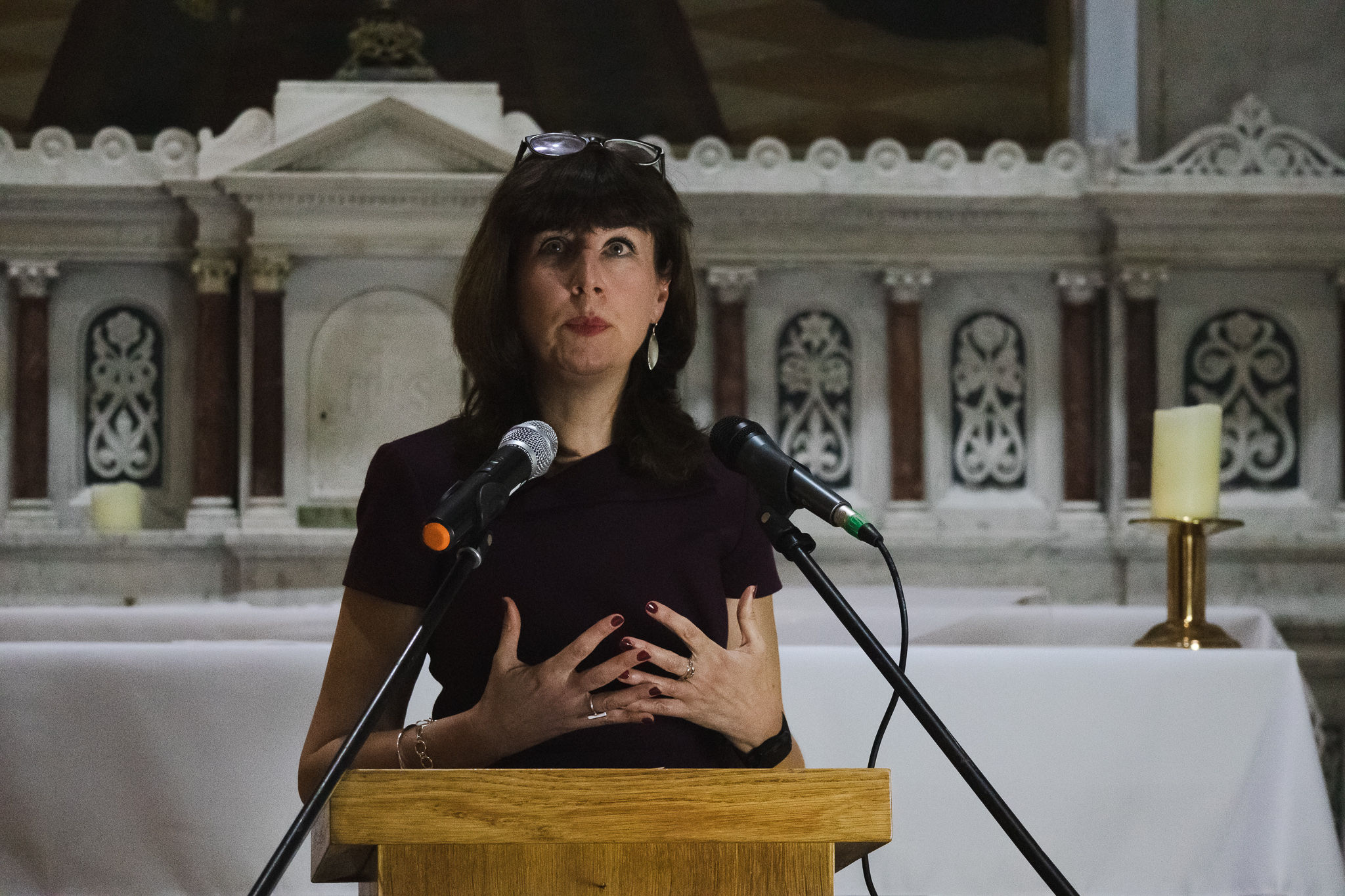 On March 24th, the beautiful Ignatian chapel at Saint Francis Xavier parish on Gardiner Street was the venue for the first JCFJ event open to the public in more than two years. We had never intended to become a hermitage, but the pandemic made introverts of all of us.
After all that time cloistered away, we were delighted to welcome renowned political theologian, Professor Anna Rowlands of Durham University whose recent book Towards a Politics of Communion is a magisterial account of how Catholic Social Teaching (CST) can help us to navigate the dark times we live in.
Although the event was well-attended, we know that not everyone who wanted to be there could make it, so we had it recorded by Spincake Media and it is now available to view on our YouTube channel:
Rowlands began her lecture with a poem by 20th century German writer and dramatist Bertolt Brecht – 'On Posterity' which muses on the dark times he lived in during the second World War and the inner conflict he feels, torn between his desire to be kind and care for others and also to protect himself.
She followed with a commentary on the resurgence in recent decades of interest in ideas including care for creation, solidarity with the marginalised, the equitable distribution of wealth, and what it might mean to respect human dignity and work for the common good – concepts which are the basis of CST. They are already widely in discussion within our culture and are the drivers of political movements on both the Left and the Right, even though people on both sides either wilfully ignore or are genuinely unaware of  the decades-long conversation within Christianity about their meaning and potential societal impact.
Social and political movements including anti-racist and environmental action groups have employed the language and ideas of CST as they mobilised grassroots groups to campaign for the common good.  But the concept of the common good has also been hijacked by authoritarian populist leaders who use it in resistance to the weakness and nihilism they perceive in liberalism. Such leaders 'cloak themselves' in this language to further an agenda of political insularity and exclusion, based on shared a culture and identity, said Rowlands.
'There is good reason to think Putin's action in Ukraine fits some of this framework', she continued, going on to describe the Russian President's stated belief that he has a divine mandate for the invasion of Ukraine and that he stands for a united Russian people and the Orthodox church, against the decadent liberal values of the West.
Against such dark, religiously inspired views of the world, Rowlands argued that Catholic Social Teaching offers a reparative alternative. To commit to the social vision of the Church is to recognise that the good things we enjoy are always shared, and are forever a collaboration. She said –
'We are first of all, not doers of the common good, but receivers of the common good. And then co-creators and participants within an active process in history. We are witnesses to that good. And in a suffering world, we are those called to lament, to rage and to struggle for the victory of that life.'
She continued by qualifying what this means for Christians, and how the concept can be applied in our society.
'Our Christian task is to place ourselves along the fault lines of society, where we see that social conditions most need to be transformed where good seems least present as a reality, a felt reality in people's lives. Given the rise in poverty, insecure, housing insecure, immigration status, incarceration, mental health challenges, social isolation, and loneliness, this is a multifaceted task…'
We in the JCFJ were gratified to hear Rowlands reiterate how the precepts of CST apply to our work in the centre and to the work generally undertaken by Jesuit organisations in Ireland and globally. The call to go to the margins and advocate for people affected by the material inequality of the neoliberal capitalist system is at the heart of what we do.
At the end of her lecture, Rowlands circled back to the Bertolt Brecht poem she had opened with, revealing its deeper theological meaning. 'Alas, we who wish to lay the foundations of kindness, could not ourselves be kind, wrote Brecht for us. Christ is our kind and in his image and imitation, we find our own kindness.'