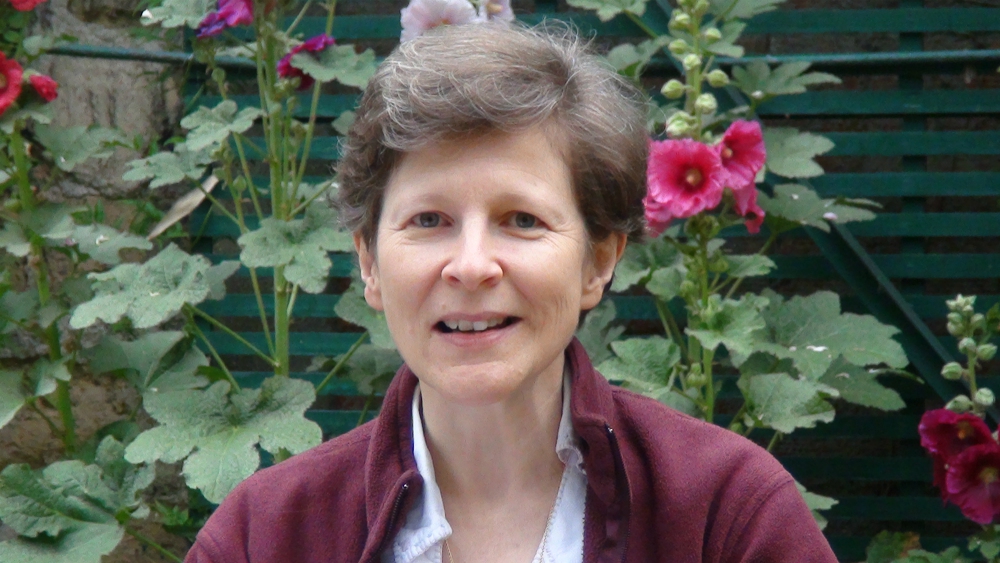 "Reconnect ourselves to ourselves, to others, to nature and something bigger than ourselves"
Introduction
Cécile Renouard, a sister of the Religious of the Assumption order, is a Professor of Philosophy at the Centre Sèvres (Jesuit Faculties of Paris) and teaches at the Ecole des Mines de Paris and ESSEC Business School. She is the scientific director of the research programme "CODEV – Business and Development" at ESSEC, where she studies the implementation by private actors of their ethical and political responsibilities. She is also the co-founder of the Campus de la Transition, a training and research institution dedicated to ecological and social transition which is in the Forges area, 75 km to the southeast of Paris.
Keith Adams, Social Policy Advocate of the Jesuit Centre for Faith and Justice spoke with Sr Renouard at the 3rd European Catholic Social Days event in Bratislava on Saturday, 19th March 2022. Their conversation has been condensed and lightly edited for clarity.
Keith Adams: Cécile, along with being a religious sister, a Professor of Philosophy and the director of a research program for corporate and business ethics, you are also the co-founder of Campus de la Transition. Could you tell me more about the origins of the Campus de la Transition and its current work?
Cécile Renouard: The idea of creating the Campus de la Transition came to me in September 2016. At the time, I was teaching in different engineering and business schools, but also at Centre Sèvres, the Jesuit university in Paris. In addition to my teaching activities, I had been studying the effects of multinational corporations' activities in different countries like Nigeria for example. All this illustrated the weight and inertia of big institutions.
This is how I got the idea of creating a small institution which could put pressure on the big ones; whether multinational corporations or higher education institutions. I asked friends, colleagues, and people working in big companies to know if having this small initiative was a completely foolish idea. Everyone I spoke with told me that it was worth exploring what could be done!
So, I decided to spend a few months at Schumacher College, a small institution in Devon that has been around since 1991. This convinced me that no equivalent existed in France, justifying once again that it was worth trying to create such an institution. Being located, rooted, in a specific place, with a given context was important to me, if not the main idea. Indeed, I wanted to counterbalance what was happening in business schools, for example, where we train people as if they are not rooted to anything. We wanted a specific place to be able to experiment and see concretely how it looks like to try to reduce our carbon and ecological footprints. We wanted to show that it's not just bad news and constraints on individuals and on productivity at large, but can also help us create a kind of togetherness and conviviality, while reconnecting to ourselves, to others, to nature, and something bigger than ourselves.
KA: How many are in the community at the moment?
CR: The first community began with six people. Today, we are eleven committed to the project for at least one year on-site. In addition to that, ten other young people – who are there for civic service or internship – live with us for six or eight months. We also host regular volunteers, between three and six people per week, spending most of the time one month with us. Not to mention occasional visitors. Broadly speaking, we are 35 people living on-site on average!
KA: A core value of the Campus de la Transition is the realistic approach to ecological and social transition. So, how have you created or shaped the environment that allows the human and social sciences to collaborate effectively with the physical and earth sciences?
CR: Well, I had the opportunity to join the scientific board of the Foundation for Nature and Mankind. For the past 15 years, I have been able to discuss with scientists coming from climate sciences, engineering sciences and also ethics and business, my own background since I graduated from a business school before entering religious life. Philosophy enables a dialogue with different disciplines. For me, it was very helpful to be able to carry out surveys with experts on different disciplines, like social sciences or geography. The latter is an interesting discipline because it is located at the crossroads of living and human sciences.
On the other hand, we also had a network of people interested in pedagogy. All this convinced us that education was the major challenge to take into account if we wanted to change the way we live and the way we carry out economic activities.
As you can understand, the Campus de la Transition experience began with a close-knit, convinced and committed network. The activities took a new dimension thanks to a meeting three of us had with the French Minister of Higher Education three years ago. The Ministry and her head of cabinet confirmed that the Campus de la Transition was a unique proposition because in a way, out of the system. We're not part of the State-led response, but the NGO gathers scholars and young people who want to make a difference, which is a great strength. For all these reasons, the Ministry asked us if we could work on a common base of content and knowledge, but also of skills and know-how to carry out the great transition. We were keen to open the discussions and reflections, so we gathered professors and researchers from different disciplines, practitioners and students. This collective of seventy people agreed to accompany us in what became the Great Transition Handbook.
KA: And that's actually a perfect segue for my next question. In the Great Transition handbook, you introduced the conceptualisation of six gates which we must enter through in order to have a full understanding of the climate and biodiversity crisis. Could you explain to me how the six gates work and how you initially conceptualised them?
CR: First of all, the idea was to show the inadequacy of dealing with topics related to ecology with one single discipline. This is obviously not enough and even impossible. We noticed then that, even within our group, our perceptions differed on the means to be implemented to sensitize people to these issues.
So we decided to use the Greek etymology of the words 'economy' and 'ecology.' You can find in both terms, the common root 'eco', in Greek "oikos [household] – meaning our common home, house, and hope. Oikos is related to a good diagnosis and how we have to understand that there is only one planet, and "no Planet B" as we used to say it. This first gate is about the real scientific diagnosis connecting with the human and social consequences.
Then, we focused on the other parts of the words "economy" and "ecology". The word nomos [law and metrics], refers to the rules of the game. We try to analyse our economic models, our political institutions, and legal tools. What is appropriate? What is not?
On the other hand, logos [narratives] which means that, despite regulations, we also need positive narratives to know what is going on and how to help people look at the future in a constructive way. This is essential to be able to change, to have the willingness and the desire to move forward.
After that, we added the ethos [ethics] gate. Ethos deals with discernment, at a personal and collective level. Praxis [practice] came naturally because if we have to think differently, we also have to act, knowing the different actors existing, the different levels between local, national, regional, global… In this praxis gate, we also deal with the issue of violence looking at what the different means are in terms of social and political action. Knowing whether we will be able to achieve the goals with as little violence as possible and if active non-violence is enough is a real question for young people and today's younger generation.
At last, the dynamis gate. Dynamis [force] is related to how we reconnect to ourselves, to others, to God, and to the whole creation. This gate enables us to integrate, in the handbook, topics closely linked to eco-psychology or eco-spirituality.
When I give a talk, most of the time I ask people what their favourite entrance gate is. It is very interesting because every time, the six gates are well represented. I find it powerful since it makes it possible to reach several types of people with different rationalities and sensitivities!
KA: You mentioned that each person has a preferred gate. What was your preferred entrance? Which one did you initially start with?
CR: It's either ethos or dynamis. Or logos! The three of them are quite connected. However, if I really have to choose, I would say ethos. Indeed, ethos deals with what a good life and a desirable life are. It also questions the injustices existing with the responsibilities we have.
KA: In your presentation on Friday morning [at the conference in Bratislava], you left us in no doubt of the seriousness of the situation that we currently find ourselves in. You made a very strong point that based on current trajectories, we're not even going to be convergent with two degrees of global warming post-industrial age. So thinking politically, what are the key political priorities which could change the current trajectories of emissions and temperature change?
CR: This is a difficult question; I have to admit! First, I think that the idea of a carbon tax is key – as it's currently being discussed at the European Union level. In terms of companies and corporations, dealing with their accounting standards is essential. Indeed, if you really want to change things, we have to make financial and extra-financial goals really convergent. This is not possible if we don't look at the companies' responsibilities in a systemic way, meaning that we have to value differently what really counts in our economies and in our lives.
Education is also fundamental. We obviously need other regulations, but we also need to educate differently. Integrating humanities and ethics in old curricula is absolutely crucial.
KA: We seem to be living in an age of crises, where we are being very quickly propelled from one crisis to another. In a short space of time, we have moved from the global financial crisis to Covid-19 pandemic and, recently, to the Russian invasion of Ukraine. How do we convince people that the climate and biodiversity crisis is interconnected with all current crises and is also more important as a 'hot planet' is an immediate existential crisis for many regions of the planet?
CR: I don't know since we are not very good at convincing people. Explaining the links should be considered because we have a very compartmentalised way of dealing with problems – also in terms of education. In companies, everybody is responsible for specific aspects. We have to develop an integrated and holistic perspective. If we help people to reconnect to nature, to their own body, to their own feelings, then they will see how the quality of relationships is important and has to be promoted at all levels. With this change of perspective, people will understand that the "one health" is linked with environmental, animal, and human health. There is no separate problem, no one can say otherwise. It means that we have to think in terms of holistic science. And it is necessary! We also have to combine it with an ethical perspective to deal with the issues of individualistic societies and show that solutions exist if we pool our efforts together.
Ultimately, this means we must help people realise that giving sense to their own life requires taking care of others. There is always something we can do to nurture, experience and change. I would like to insist on the educational aspect of helping people to experiment. Moreover, being able to encourage experience is quite consistent with the Jesuit spirituality and, at the deep level, read and reread their experience. Joy and peace will come as we experiment and discern.
KA: Lastly, can you tell me more about your journey towards an ecological conversion as well? I'm conscious that you're not only a Professor of Philosophy but also a religious sister. Was your ecological conversion something that grew as your vocation developed or something that started earlier?
CR: Indeed, I was a girl scout for 14 years, so quite a long time! For me, it was a great connection with nature as well as frugal life experimentation. During the scout camps, I felt very happy. So, I'm pretty much convinced that the connection between frugality and happiness is deeply rooted with my own experience.
After that, I entered religious life. Thinking about it, it was more a question of injustice – and social injustice – because I travelled all over the world before entering the Assumption order… I spent a few weeks in a religious community in Argentina with friends with whom I graduated from business school. We helped poor families in a barrio to build their own homes. This experience of social injustice was very significant for me. When I wrote my PhD dissertation on multinational corporations and sustainable development in developing countries, the link between social and economic aspects was the core aspect. I realised more and more that we cannot deal with social issues and promote a structural change if we do not also deal with environmental problems.
So that's why, step by step, I realised that I had to change things in my own life. For example, a few years ago I was flying very regularly to go to Africa and Asia. In fact, not asking myself whether it was necessary or not to fly was a problem in itself. I give you just one example, but many other examples of my daily life would work too. The creation of the Campus was also a way to try to see very concretely what it means to be more accountable for all these aspects.
About the Campus de la Transition
More information on the Campus de la Transition can be found on their website. Guided by the vision to promote an ecological, economic, and social transition on the scale required, the Campus is both an academic laboratory—offering new multidisciplinary teaching programs—and a research laboratory—developing new pedagogical practices. Located in the specific context of an eco-site, students are immersed in the experience of a transition through experimentation, research and education.
Various training courses on ecological and social transition are available for students and professionals.  Some examples are:
Two- to five-day training programs on-site with master's degree students from all disciplines. The short courses correspond to the 'off-site' courses offered in the grandes écoles and universities.
Oikonomia Summer School, a three-week training course exploring the links between the economy and the living environments on the planet [the ecumene].
The AcTeS (Accelerating Ecological and Social Transition) training course for professional organisations, through face-to-face and distance learning, to assist them to accelerate their transition.
Experimentation and experience are central to the ongoing work of the Campus.  In its semi-rural location, academic research is directly tested and then thoroughly and rigorously documented in order to set up prototypes. Various projects are the "Low Carbon Mobility" Project: Designing and Deploying Sustainable and Inclusive Mobility in a Semi-Rural Environment; the ORFEE Project developing devices that are resource-saving and sustainable; and the MC2 Project aiming to help the Campus reduce its GHG emissions to bare minimum by 2028. A list of scientific papers, articles and books from the Campus de la Transition are available here.
The Great Transition Handbook was produced, based on the learning of the community members, to support stakeholders across education and civil society in this transformation by providing them with innovative theoretical and practical tools that can be applied in their daily professional and personal lives. A number of articles on the Handbook are available on the Campus website.