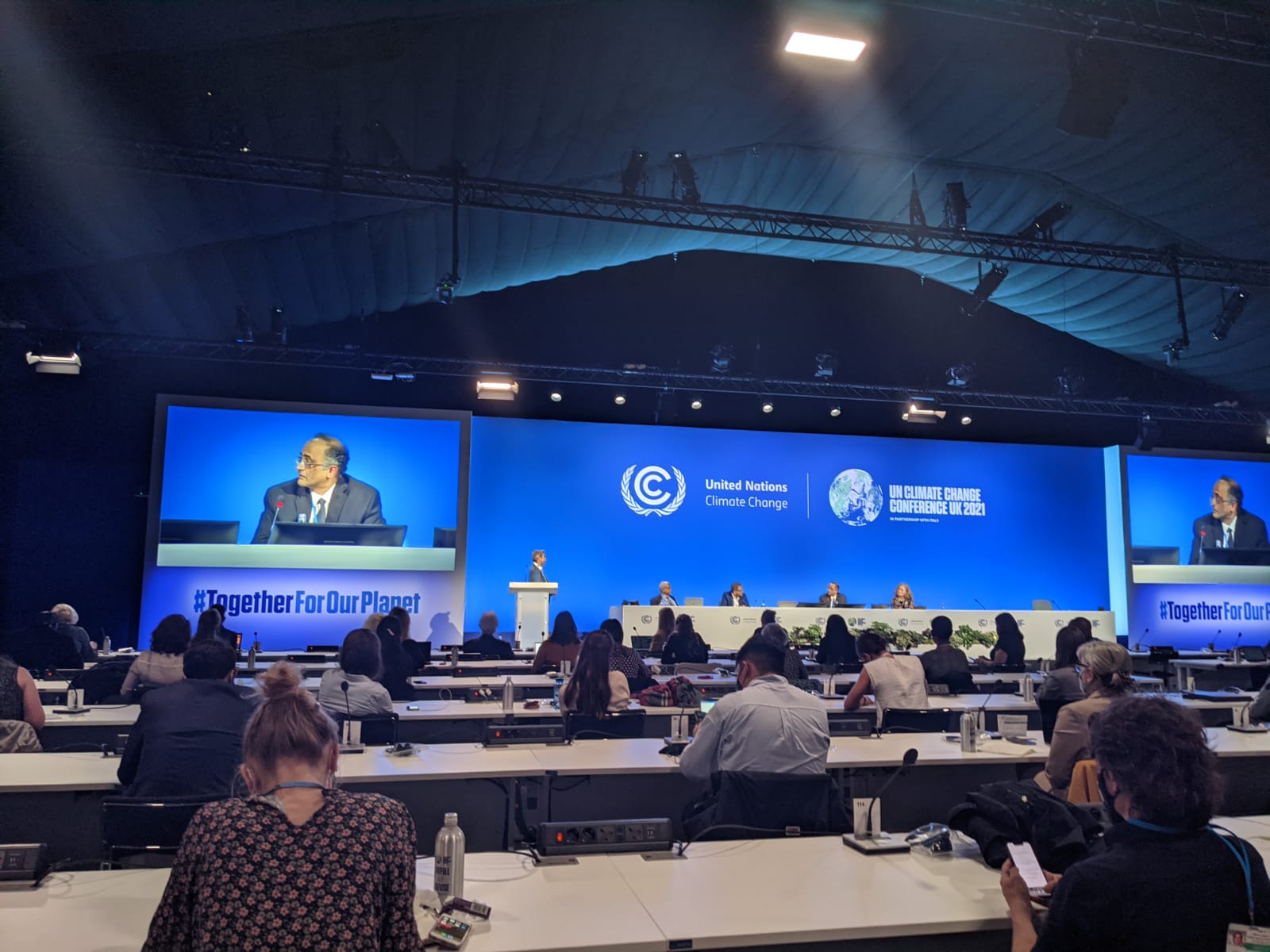 My first impression of the Blue Zone in COP is – disorienting really. Arriving just after 3pm having finished my presentations at St Aloysius' College the queues which covered Twitter on the opening days of COP were non-existent. Having my Covid tests ready, along with letters and ID I passed through two rounds of security before getting to the registration desk. Commenting on the particularly terrible photo the kind lady assured me confidently that no-one gets away lightly. Armed with my blue lanyard and my terrible photo I was ready to take on the Blue Zone.
I entered what I can best be compared to, somewhat ironically, a massive international airport. The air of urgency and rushing
around, wheelie suitcases, the sheer number of people from different nations and long corridors with people sitting around on laptops or talking the phone. Stick some flat escalators in and I would have thought I took a very wrong turn on my way over. Having completed by main task of the day of collecting my badge and having some spare time I followed my sister's sage advice and walked around looking concerned (but not lost).
Blue Zone Events
Monday 8th was 'Adaptation, Loss and Damage' day with all the events and talks focusing on these topics. Having finally gotten my bearings somewhat I entered what was my first official Blue Zone event, a presentation and panel discussion on 'Building a Climate Resilient Future', capacity was limited to 150 so after having a nice chat with the man at the door I was allowed in about 20 minutes after the start. This event was a whistle stop tour of different adaption project across the globe featuring massive tide barriers, elevated roads, reflective paints to passively cool buildings, nature based solutions for flooding including farming on river banks and new farming techniques. A core message from this session was the need to learn from each other, while every country will experience climate change differently sharing adaption knowledge will be a vital tool in surviving climate change. We no longer have time to pilot projects, action needs to be coupled with learnings so that we can try again and try better. Directing the money at local level using Local Adaption Plans of Action, which was pioneered by Naples, which are community based approaches that takes vulnerable first approach adaption and climate action, should be the model all countries follow.
At the close of the meeting the panel was asked what the most urgent actions are in adapting to climate change. Mobilising the money, caring enough to help someone else, implementation plans and creating a movement of local adaptors were all mentioned however co-design or co-creation of adaption plans would have to be the terms of the day. The idea that those most impacted are best placed to adapt was prevalent throughout the event – the trick is to support them and learn from them.
Co-creating solutions was also a major factor in the next event I attended – Champions Group on Adaption Finance in the Resilience Hub. Facilitated by Angelique Pouponneau, the CEO of SeyCCAT, this event consisted of members of the group reiterating the support and announcing pledges. Interestingly it also featured members of Small Island Nations and leaders of other smaller developing countries highlighting again the importance of Adaption Finance. It closed with a talk from Selwin Hart of Barbados United Nations Secretary-General Special Adviser and Assistant Secretary-General for Climate Action Team. Pulling no punches he said members of this group need to step up in actually providing the money that was needed for adaption. Reduction in red tape, capacity building and reassessing the eligibility of access to these funds are all critically important. Work in this area cannot only happen during COP negotiations but will need to be something that is constantly on the agenda for years to come.
His words, as well as the impressive facilitating which called out the fact that these pledges need accountability (as well as diversity in the delivering) brought the event to a finish.
After a few free nibbles I made my way home for tea and toast.