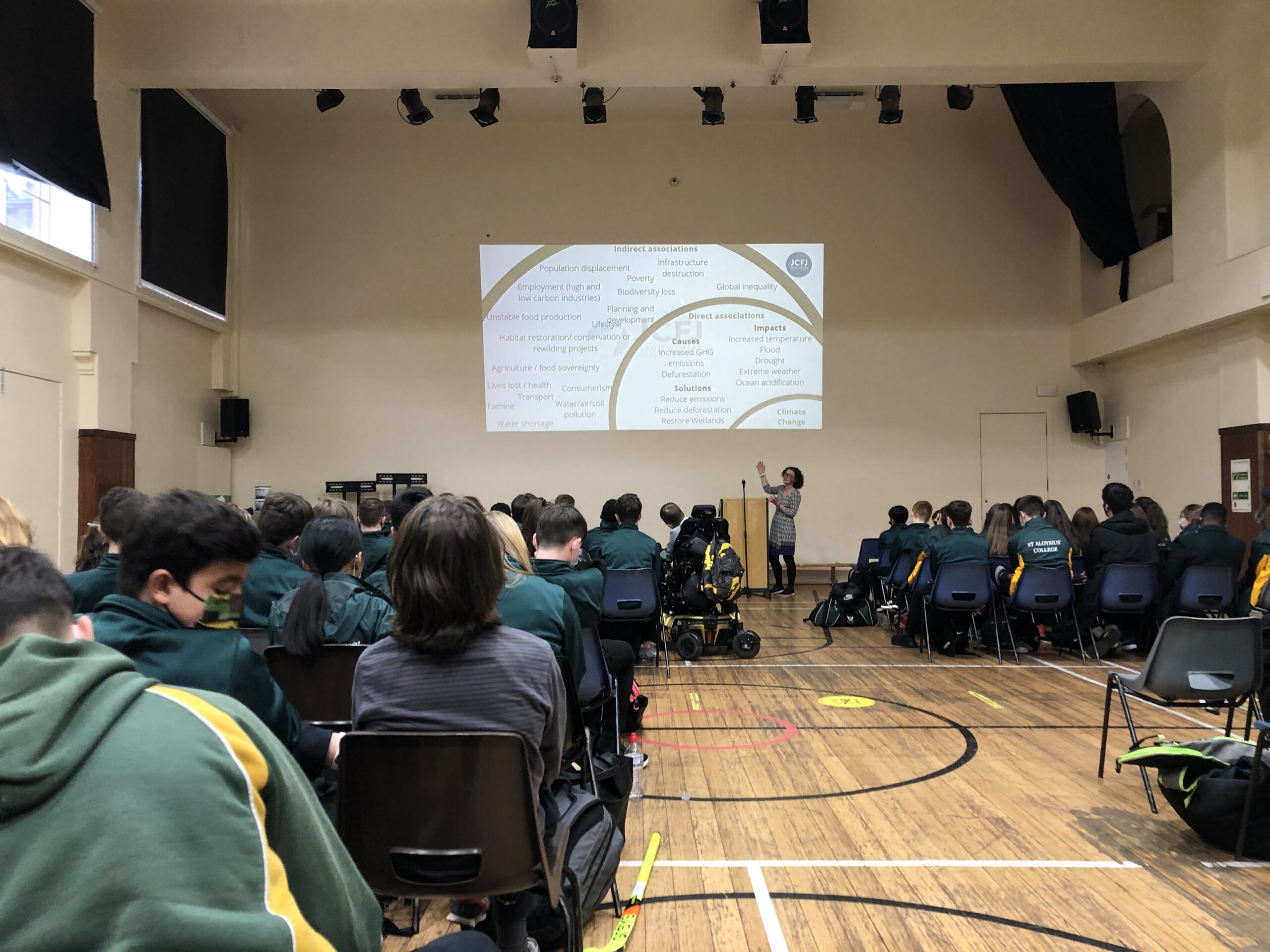 Adaptation, Loss and Damage – 'Delivering the practical solutions needed to adapt to climate impacts and address loss and damage' – was the COP26 theme for Monday 8th November.
Because of this, it was also the date our colleagues in Ecojesuit chose for their COP26 event 'Faith at the Climate Frontiers' – Consequences for Oceania and Asia, which took place at the Ignatian Spirituality Centre in Glasgow and also online. The event began at 8.30am GMT. It's early for us, to ensure that it's at a reasonable time in the Philippines (where Pedro Walpole SJ of Ecojesuit is based) and in other countries in South Asia and Oceania, so that people based there could speak at it or attend.
After a short video introduction which illustrated the extent of the effects of climate change on indigenous communities in this region, Ann Marie Brennan opened the webinar, and was followed by Ecojesuit Director Pedro Walpole SJ, who welcomed us with a prayer evoking our need to change, to "go deeper, listen and accompany". "The average indigenous is the average of all of us, of humanity", he said, and this interconnection is the reason why their problems are our problems and we should work together for solutions.
The event had several interesting speakers, including Dr Siji Chacko SJ (Director of Conference Development Office of Jesuit Conference of India/South Asia), who was present at the Ignatian Centre in person. He wanted to share the mood from Glasgow with attendees, and said that the messages from posters in the city include "we count only you" and "less blah blah, more action" – the Greta Thunberg quote. He said there is a lot of talk about the sharing of resources from the countries. The global context is very clear to us – for example in India farmers are dying by suicide because of debt caused by crop failure. In Bangladesh – 15 million people could be displaced due to soil erosion. When any of these climate affected events happen we know that the poor and vulnerable are most impacted.
Despite these stark figures and the worsening effects of climate change, the speakers felt that there was still space for hope, and Pedro Walpole among others restated their commitment to accompany communities in their climate action and in their battle for climate justice.Just across the road from the Ignatian Spirituality Centre is St Aloysius' College, a Jesuit school in Glasgow where Ciara was due to talk to third-year pupils about integral ecology.
Highlighting the Interactions of Climate Change
When the webinar ended we made our way over to the school, where we were introduced to the staff by Lynn McWilliams of JMUK. More than 100 pupils – girls and boys – filed into the school gym to listen to Ciara's presentation. It is part of a series of events that are taking place in this school, in Stonyhurst and Wimbledon College (Jesuit schools in England) during COP26. The students are using art and drama to express ideas about climate change, and today five of them perform a brief but moving piece about the changing climate, before Ciara's talk begins. Her 40-minute lecture is based on the premise of integral ecology as set out in Laudato Si' and Pope Francis' statement that everything is interconnected.
Ciara reminded the pupils that ecology is something they may have studied it in biology class, and explained how its key concepts such as the idea of a food chain can help them understand integral ecology. After a slide showing a very basic food chain with a Scottish wild cat as a raptor (apex predator) she went on to show the complexity of a 'food web' where the complexity of who and what comprise predators and prey becomes more complicated.
One example given to illustrate the point was "The wild cat does not only eat rabbits but will also prey on mice and vole which feed on a more diverse range of primary foods such as grains, seeds and seeds. Foxes and pine marten compete with the wild cat for food." To further make the case, she introduced the students to the "wider picture" of external threats to the wild cat's survival including habitat fragmentation, disease and human interaction.
Having demonstrated how looking at the whole picture gives a very different story to the one we see when we study things in isolation, Ciara then moved into the basic science we all 'know' relating to climate change – carbon emissions, greenhouse gases, fossil fuels. Then she moved the lens out to reveal the wider picture in this context and explained in more depth how reducing emissions and restoring the ecosystem was not just a matter of environmental care, but something inherently connected to societal issues such as how we heat our homes and how we travel.
She then explained to the 3rd-years how the impacts of climate change disproportionately affect poor and vulnerable communities. She talked about extreme weather events and gave an example of how flooding from Hurricane Katrina did to the US city of New Orleans destroyed poor, mostly black, neighbourhoods which have still not been rebuilt, while well-off citizens were less affected as their houses were on high ground and were more quickly repaired. She also highlighted the work of Irish Jesuits International and Jesuit Missions UK in supporting projects in the Global South which help communities there cope with the devastating effects of changing weather patterns on their crop harvests.
Finally, Ciara illustrated the interconnection of social and environmental issues closer to home. In Scotland and Ireland, peatlands are drained and land is deforested for agricultural use, robbing it of its ability to absorb carbon. Solving issues like these involves negotiating with groups with conflicting interests, and requires coming together with others who can make your cause stronger. She gave the example of what we both have encountered over the past week at COP26 – coalitions made up of NGOs, unions, faith based groups, youth organisations and others.
At the end of the presentation, the St Aloysius pupils shared their stories of personal climate action projects they are involved in, in school and in their homes. As the school strike marches show, this age group are very active and engaged with the issue and their actions will form the basis of future climate adaptation.
Into the Blue Zone…
This is the last of my COP26 diary entries as I travel back to Ireland tomorrow, leaving Ciara here until the end of the summit, where she is an observer in the Blue Zone. I look forward to her reports of what's happening in there.
Martina