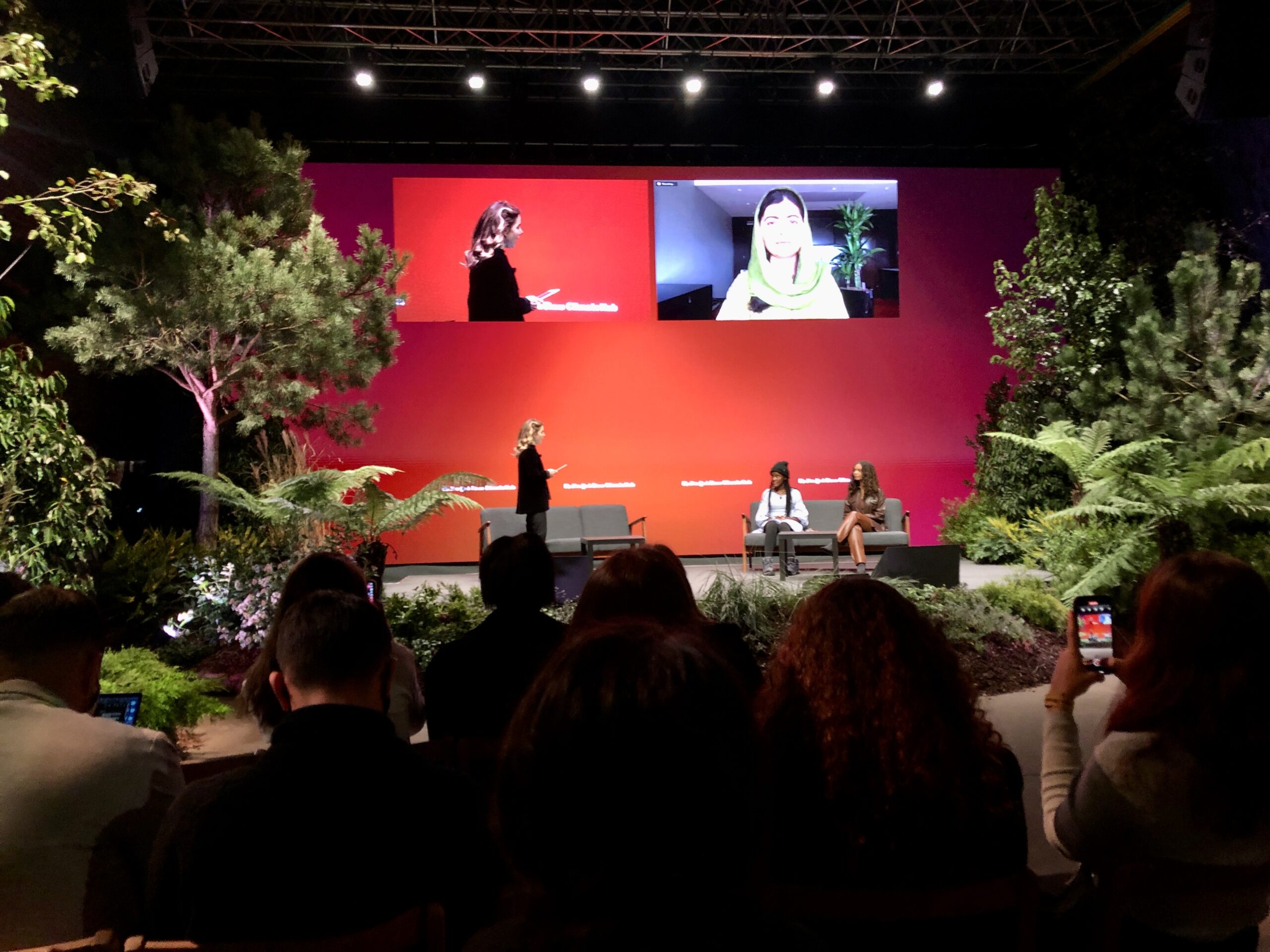 It's Day 4 of the COP26 conference, and my second day in Glasgow at the event. In the Blue Zone – the main arena – today, the topic for discussion is 'Energy – Accelerating the global transition to clean energy'.
In the Green Zone, there are events around this theme being held, including 'Business and Climate Justice: Empowering Women Through a Just Transition'; 'Regions beyond coal: European voices on moving from dirty energy – and how to make it fair'; and 'Indigenous peoples of the Amazon and climate change: new solutions for energy from the indigenous territories'. 
While all of these events are available to view on the COP26 YouTube channel, ticketing for the Green Zone is limited to just three days' access for each person during COP26 and today is not one of those days for me, so I have ventured outside of the official summit site today to an interesting side event organised by The New York Times.
The New York Times Climate Hub
The NYT Climate Hub is located in SWG3, an arts venue and events space, and is running for nine days during COP26. Billed as 'a physical and virtual space where influential leaders and thinkers join forces with the wider community to debate, discuss and discover actionable climate strategies', the Hub hosts several events each day organised around five key themes: Water and Oceans, Energy and Storage, Construction and Design, Food and Agriculture, and Transport and Mobility.
It has a main programme of events – lectures, panel discussions and films – which is accessible to anyone who buys a day ticket at the reasonable cost of £24.99.  The Hub also features a separately ticketed, specialist series of events aimed at business and financial leaders, technologists, policymakers and NGOs. The Forum is a more exclusionary space – ticket prices range from £399 for a day up to £1955 for all nine days, It is also hosting a one-day conference for teachers and lecturers called Educate on Climate, which explores questions of empowering students to think critically about the challenges facing the planet, and how educators can work with young people to help shape climate solutions.
Girls' Education and Climate Action
I have a day ticket for the main programme today, but the event I'm most interested in is The Power of Knowledge: Girls' Education as an Accelerator of Climate Action. Irish Jesuits International supports a number of education programmes – many of them focused on the education of girls – in countries ranging from Afghanistan to South Sudan, therefore this session is of particular relevance. Climate change and its effects on subsistence farmers in countries in Africa, as well as its role in exacerbating conflict makes it vital that people in countries most affected are equipped with the knowledge and resources to find solutions and campaign for worldwide action.
The panel discussion is taking place in The Think Tank zone of the Hub, which is an interesting and visually appealing space. The "Conference of the Trees" is a temporary forest created for this area by award-winning artist Es Devlin, that comprises 197 trees and plants representing the 197 countries that have ratified the United Nations Framework Convention on Climate Change.
The panel features Malala Yousafzai, Pakistani activist for female education and the youngest Nobel Prize laureate, who is now head of the Malala Fund – a non-profit which advocates for girls' education. Malala is famous for surviving being shot by a masked gunman in her home country 2012, for speaking out about girls' education. She and her family relocated to the UK where she graduated from Oxford University last year.
The other panelists are Leah Thomas, who is a Black woman from the US, and the founder of Intersectional Environmentalist; and Vanessa Nakate, a climate justice activist from Uganda who began the Africa-based Rise Up Movement. Nakate began striking for the climate in her home town of Kampala in January 2019, after witnessing droughts and flooding devastating communities in Uganda. Due to the unequal distribution of the Cover-19 vaccine, voices from the Global South – the countries most affected by the climate crisis – are underrepresented in person at COP26 so I am interested to hear her perspective. She has already been the topic of discussion this week due to being cropped out of a photograph with Greta Thunberg  and Nicola Sturgeon. Unfortunately, it's not the first time this has happened to Nakate, who was previously cropped out of a photo with white climate activists at Davos, and is an example of the challenges faced by women of colour who are activists in this arena.
The topic of the discussion is how the main purpose of girls' education cannot just be about gender equality, but must be harnessed to ensure that women and girls become leaders in the specific context of climate action. Women are uniquely affected by many issues of climate change and must be empowered to speak out on the issues they have experience of.
The talk is introduced by Stephen Dunbar, head of the New York Times, and he doesn't really have my attention until he thanks the sponsor… Nike. The audience was treated to a short video message from a female executive of the sportswear company which included the words empowerment, commitment, leadership and asserted that Nike is at the forefront of global equality for women. It's a surprising start, but I suppose it shouldn't have been. This is not a neutral zone, it's a corporate event by a global media company.
I put my cynicism aside as the event begins and look forward to the discussion. Katrin Bennhold who is chairing the talk, introduces the three speakers, but only Vanessa Nakate and Leah Thomas cross the stage to take their seats. Malala has not travelled to the conference, which is a disappointment as I, and I'm sure many others, welcomed the opportunity to see her. She's live via video link instead.
Connection between climate and gender justice
All of the speakers opened with examples of how climate justice and gender equality are connected. Malala said that more than four million girls are out of school because of climate related disasters, therefore they are "interlinked and should be addressed together". She gave examples of  indigenous girls that her charity The Malala Foundation works with in Brazil who are fighting for the right to go to school and also fighting deforestation and campaigning for land rights in their region.
Vanessa said that in Uganda – a country with one of the fastest changing climates in the world – the role of women in preparing food, gathering firewood and getting water means they are at the frontlines when disasters occur. She spoke of the patriarchal culture where girls miss out on schooling to be given as child brides, in return for money or cattle; or are taken out of school to help the family at home. "There is always the prioritising of the boys over the girls" she said. In a culture and world where there is this  gender inequality, disaster exacerbates it.
Leah responded to a question about inequality in rich countries including the US by talking about the history of climate activism by indigenous people and people of colour in the United States. She said that Black people were left out of the Earth Day movement in the 1980s, and she sees the remnants of this type of discrimination in the cropping of Vanessa out of photographs with white people. "We have always been there" she said.
All three of the young women laughed at the suggestion that they believe the promises of world leaders like Justin Trudeau to 'do better' on climate action. Vanessa was particularly powerful in her answer, saying "When leaders call us amazing they are handing over responsibility to us" adding that "I hand the responsibility right back to them". She stated that as an activist she can organise a protest, as she is not in the negotiating rooms the power and therefore the responsibility for change do not lie with her or other activists.
Q & A Session
In a Q and A session after the talk, the panel was asked about their unique female perspectives on climate action, where they reiterated the need to educate girls so they can become women who can sit at the table in positions of power, and to listen to the voices of those most affected by climate change.
The women were also asked by a female climate activist from India how she could talk to her audience who were mainly uneducated girls about climate action, and they responded that personal examples and simple language were key to engaging people in this situation.
A question about decolonising the system from a woman who described herself as a "white activist" evoked a sad and interesting response from Vanessa Nakate. She talked about her childhood in Uganda where she and others like her believed completely in the superiority of white people, and how there is a need to decolonise the mind as well as the structural system. She also spoke about how it is relatively easy for rich countries to switch to electric vehicles, but they should consider the cost to the exploited people – often women – who make them; and about the climate debt countries in the Global South are being burdened with, despite not causing the problem. Leah gave the example of the futility of corporations planting trees to greenwash their business, and in the process taking land from indigenous people.
The women raised many good points and could have spoken for longer on the topics they just touched on. Although the headline act for this event was Malala, it was Vanessa Nakate who made the strongest impression on the day. She is an impressive, articulate woman who ensured that her points were heard. Nobody is cutting her out of the climate justice picture, and I hope we hear a lot more from her in the months and years to come.