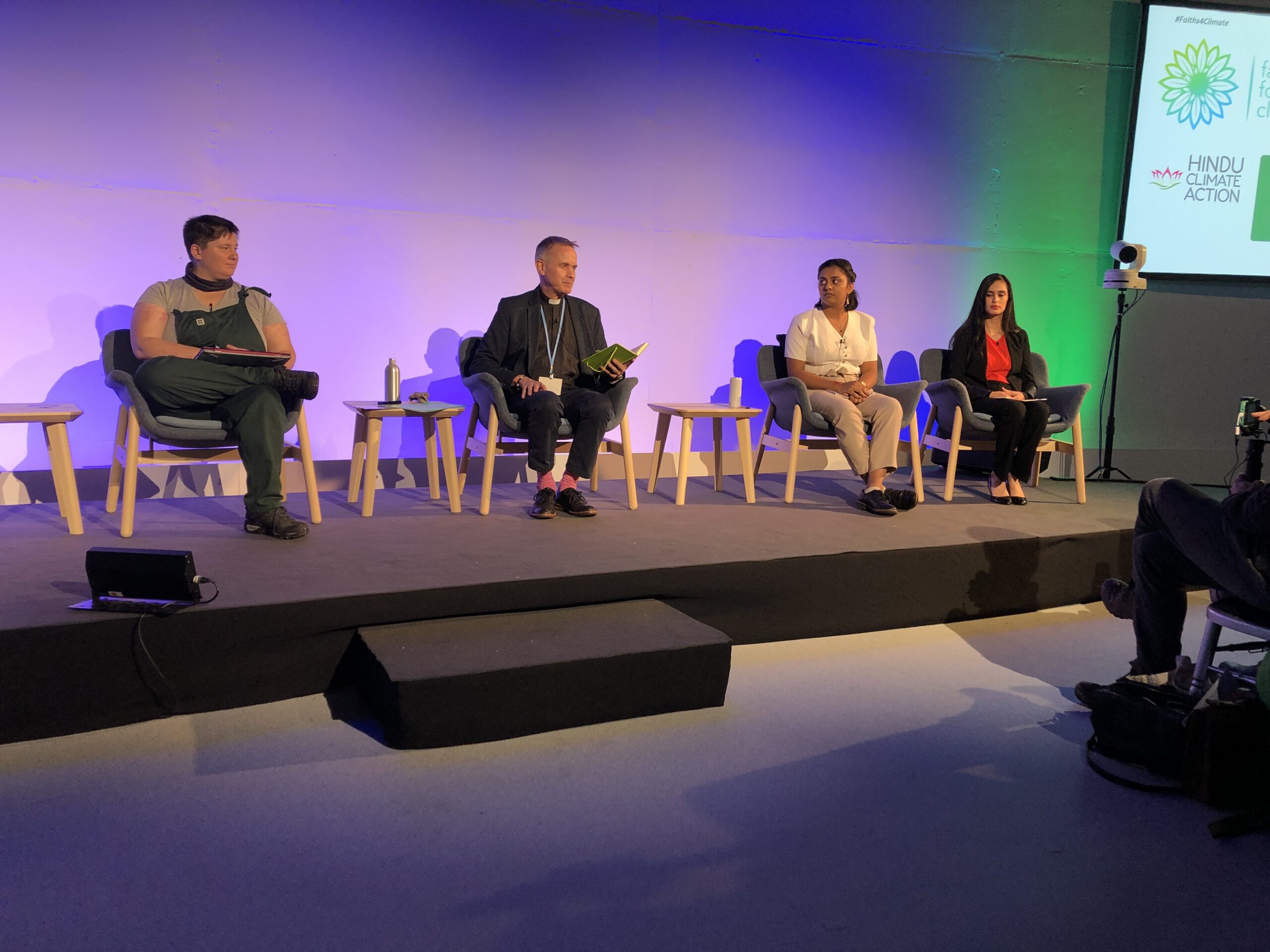 On arriving in Glasgow, I met someone for lunch and then made my way to the train station in Argyle Street where I attempt to buy a ticket to the COP26 site on the quays of the Clyde. But as Robert Burns would say "The best laid schemes o' mice an' men / Gang aft a-gley." My plans were disrupted by an incident on the railway track that was causing delays. Nobody knew how long it would take to get for rail service to resume so I needed a plan b. Luckily for me, Glasgow City Council has provided electric shuttle busses to COP26 that can be found outside the main bus and rail stations in the city, so I hopped in one of those to the site.
The Green Zone
The 'Green Zone' is across the river from the main arena and is quite hard to find the entrance to. The crowds expected don't seem to have not materialised, as there are queuing barriers, security teams and police vans everywhere and yet there are few people and I walk right in. Once in the front entrance there is an airport-style scanning of bags then you're through into the building. Inside the zone is underwhelming – it's like a trade show. The only goody bag I get has a booklet about how to be a vegan, with no snacks included, and nobody tries to give me samples of bamboo toothbrushes as I have seen on Twitter. They must be in the Blue Zone.
'Faiths together for carbon neutral cities: an interfaith panel discussion with grassroots leaders'.
Today's topic for discussion in the Blue Zone is 'Finance – Mobilising public and private finance flows at scale for mitigation and adaptation' and Green Zone events are reflecting the theme with a series of events including 'Mobilising Equitable, Just and Gender-Sensitive Climate Finance', 'Women in Finance Climate Action Group: practical steps to deliver finance for climate action and gender equality' and 'Fixing finance from the ground up – making Indigenous voices count in the fight to stop deforestation'.
I attended an interesting panel discussion with leaders of different faiths called 'Faiths together for carbon neutral cities: an interfaith panel discussion with grassroots leaders'. The panel comprised six people –  Amandeep Kaur Mann (EcoSikh UK), Priya Koria (Hindu Climate Action), Kamran Shezad (Bahu Trust) and XR Buddhist Mikey (standing in for Olivia Fuchs, Eco Dharma Network). It was chaired by Canon Giles Goddard, founder and Chair of Faith for the Climate and is followed by a response from Olivia Hanks, a Quaker representative from Faith for the Climate's Steering Group.
Despite being sold out – I had to queue to get in, not having been able to obtain a ticket online – the event is poorly attended. Almost half of the seats in the small auditorium are vacant. It begins with a moment of silence, in solidarity and interconnectedness with the people in vulnerable communities who are most affected by the climate crisis.
Amandeep Kaur Mann spoke of her Sikh heritage and how that was rooted in a connection with nature, farming and food production. She now works to encourage organisations to include Sikh communities in their consultations about climate and local issues as Sikh are deeply concerned with social justice and the environment is connected with this.
Kamran Shezad spoke of how his group started five years ago at "greening the mosque" by getting imams – the influential people in the community – involved first, so they could bring others along. He called the mosque the community "nerve-centre" and spoke of the "spiritual transformation" that occurred as people started to see climate action as related to Islam. They began plastic free Ishtar and now have come so far that 20 out of 22 mosques have solar panels. Shezad recalled his own conversion moment on a beach in Tanzania, when he realised that the clean place that muslims must have to prostrate themselves to pray was not a mat, but the whole Earth.
Mikey of Eco Dharma network explained how they worked to expand the existing work of Buddhist groups in environmental action to people who were not familiar with the concepts or practices. She told of the simple Buddhist toolkit booklet they created which explained the concept of interconnectedness [popular with everyone from Thich Nahat Hanh to Pope Francis] and karma – as in the impact of our actions. The Buddhist approach is based on a deep respect for life and a request for people to transform themselves to transform the world.
Priya Koria of Hindu Climate Action also explains how Hindu people are connected to the Earth and despite the differences between sects of the religion they all agree on the two basic tenets of no harm and compassion. Olivia Hanks, a Quaker representative from Faith for the Climate's Steering Group adds to the discussion by speaking about the Quakers' history of non violence and care for the environment and their efforts in encouraging people to connect their own situations and challenges with issues of systemic climate justice
Several of the panel are well known to each other, as members of an interfaith climate group, so they are well-versed in the differences and similarities between them. They talk about how this helps them to learn from each other's mistakes and experiences. Amandeep Kaur Mann and Kamran Shezad shared how they learned to engage older people in their communities about climate action by asking them to think about future generations, which appealed to them as grandparents.
The discussion continues in this vein and by the end I am convinced that this disparate group of faiths share some very fundamental concepts that are important to climate action. It was an informative and interesting talk and deserved more listeners.
Back to Edinburgh for me tonight. Then tomorrow, a new venue to explore…