We knew it could not last forever. I suppose we wish it could have lasted a little longer. There was a sense of the collective back in March. Curiously for our national holiday, people were at home and gathered around television sets to be addressed by the Taoiseach. Unsure of ourselves, and what a pandemic may bring, we needed reassurance that everything would be fine. We were reminded that we were each other's keeper.
"Everyone in our society must show solidarity in this time of national sacrifice. For those who have lost their jobs and had their incomes reduced temporarily… there must be help and understanding from those who can give it… particularly the banks… government bodies and utilities."
Often when we engage in collective or socially responsible activities, like paying our taxes or driving carefully, we do not see the direct causal effect our actions can have on the well-being of others. Our relatively meagre taxes enter, in comparison, a much larger pool of spending for education and health and all other these good things. Or when driving, we may not readily attribute our considerate actions as part of the reason why those who cross our path, like us, get home safely.
As the Taoiseach addressed us collectively, we could imagine plainly the effect our actions, for good or ill, could have on others. If we did not adhere to the lockdown protocols, we risked passing infection to our households, older family members, and our wider communities. We knew we had one of the lowest amounts of intensive care beds in Europe. We understood that flattening the curve was a life and death proposition.
As a result of Covid-19 and the subsequent lockdown, many businesses experienced closures and people lost employment and their income. Responding rapidly to this situation of mass unemployment, before it escalated into a social catastrophe, the Government established the Pandemic Unemployment Payment (PUP). People who lost their jobs were able to apply to this income support scheme of €350 per week which was, by necessity, universal and non-means tested. The universal aspect of this scheme was a welcome relief to those recently unemployed, as it was administered quickly and was worth substantially more than the current maximum rate for jobseeker payments of €203.
We were in this together.
People who lost their income as a result of the pandemic would receive a substantive unemployment support. It surely would not cover all the costs of a household, but it was enough to bridge the gap before the economy took off again.
No sector of the economy was untouched. All were affected by closures, adjacent delays, or sudden drop in demand, but some were hit harder than others. The retail sector and the accommodation and food sector were the worst affected. More than half of employees in receipt of the minimum wage of €10.10 per hour work in these two sectors alone. A fifth of all retail jobs are minimum wage and even more, around 30 per cent in accommodation and food. At the start of this week, a total of 212,100 people from these two sectors (87,600 in retail and 124,500 in accommodation and food) were receiving PUP, representing over a third of the total number of 585,000 recipients. Unsurprisingly, this cohort with the lowest level of remuneration within the workforce were also the most affected by Covid-19 job losses.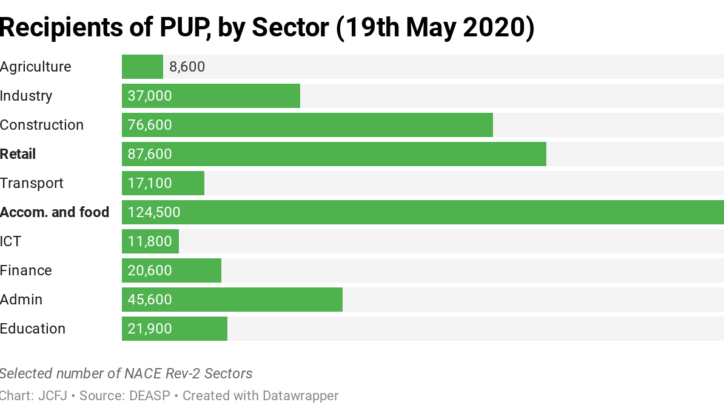 Absolute numbers do not always show us the truest picture. But this does not hold true here. Proportionately, the accommodation and food sector and the retail sector were among the four affected most by unemployment. Almost 70 per cent in the case of workers in the accommodation and food sector were now unemployed compared with 2019.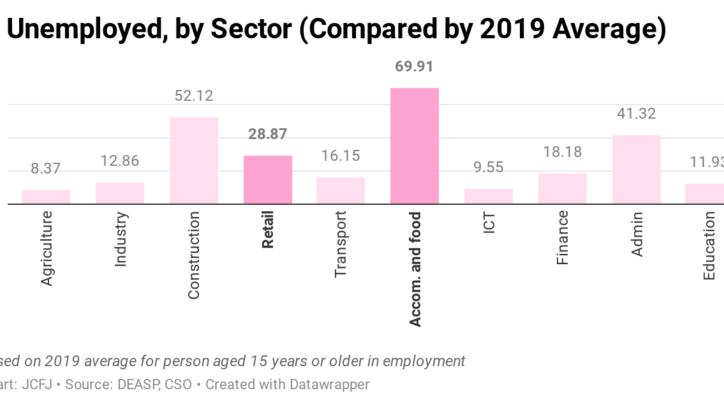 The mood of togetherness and shared sacrifice is beginning to wane. Heroism has never been more mundane and maybe we are already getting bored of it. The villains always look like they have more fun in those comic book movies. On St Patrick's Day, our leaders were marked by anxiety and we felt closer to them than usual. By the June bank holiday, they will have reverted to being purveyors of common sense. Mutual support is starting to cost. Instead of "we're all in this together", it appears we will soon be back to "helping those who get up early in the morning".
Reports demonstrated that 38 per cent of PUP recipients previously earned less than €300 per week. A naïve person might hear this, reflect on it, and conclude the minimum wage is far below the liveable wage. Thankfully, we are ruled by experts who know better. It would be dreadful for society if people had enough to make ends meet, apparently. It is suggested that it isn't 'fair' that some are getting these payments. There's no such thing as free money, we are advised.
Those who earn the least have been hit the most by the economic consequences of Covid-19. They have suffered disproportionate levels of redundancy but they are also disproportionately reliant on the private rental sector. After 29 consecutive quarters of growth, rents are temporarily frozen and evictions are discouraged. One way of looking at the PUP payment is that it is keeping people in their homes.
A better way of thinking about it might be that it is keeping landlords liquid.
The desire to cut unemployment benefits appears instinctive to certain political persuasions. But when we think about this critically, we see it is poor policy. There may be marginal cases where "generous" unemployment benefits encourage long-term withdrawal from the labour market. But that is not at play here. The people who have been let go since March were working and are eager to get back to working. If we find that people could work a full week and not have enough to make ends meet, that does not suggest we need to lower social supports. It implies we must raise remuneration for work. Whatever prudence appears to apply to cutting supports is exposed as foolishness when we think of the consequence in the private rental sector and the truly apocalyptic homelessness crisis which would follow.
This Government will be remembered for overseeing the worst housing crisis in the history of the State. It is now flirting with policies that will put that in the shade. During a global pandemic.
The fact is that the money paid out to those made redundant by the lockdown is almost all spent back in the economy. It covers rent and prescription medicines and electricity bills. Any recovery that comes will be aided by that spending. Individual income support is the most effective stimulus to the economy as all the money enters the productive economy.
We were told at the beginning that we are all in this together. Even if that is intended as rhetoric, it is actually ontology – it is the fact of reality. The poorest are the hardest hit by this crisis. The PUP payment is one wise investment we can make together to shorten and lessen the devastated of Covid-19. Everyone benefits when everyone has enough to make ends meet, even the landlords.