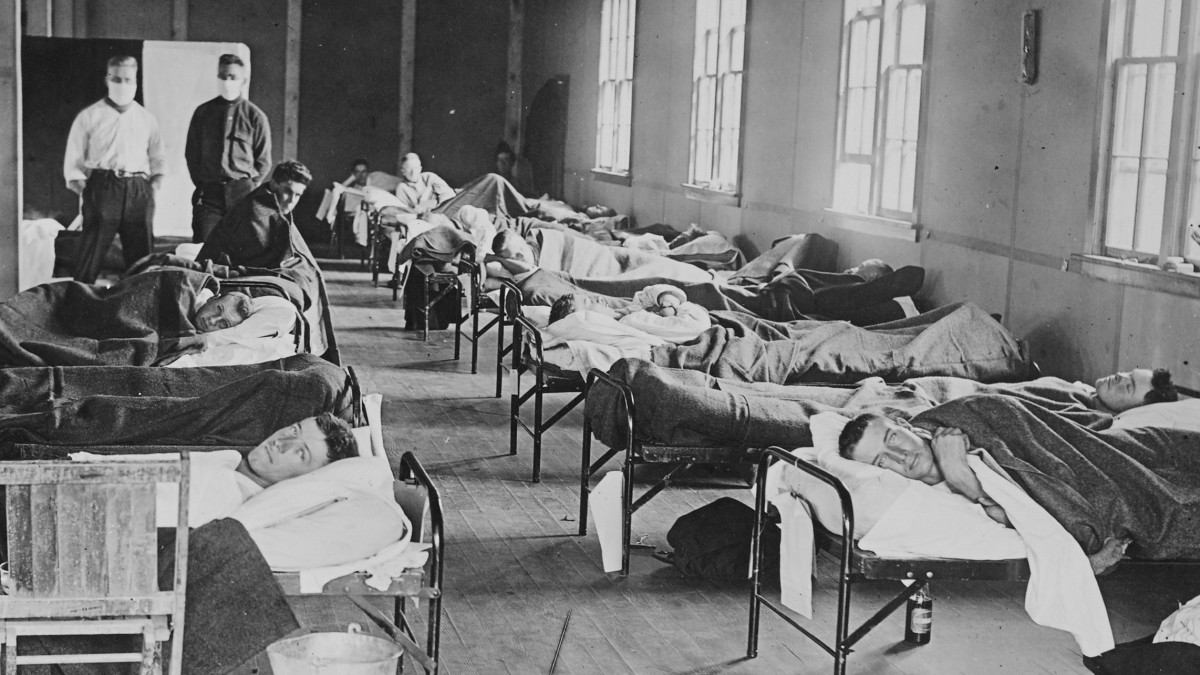 Two years ago,  on the centenary of the Spanish flu pandemic, Kevin Hargaden wrote about the need to address structural injustices  in society and in our health system to prepare for the next global pandemic, and reminded us that Christians have always tended to the sick and marginalised.
"On March 4th, 1918, a soldier reported sick at Camp Funston, a remote US army base in Kansas. Within three weeks thousands shared this infection and more than eleven hundred soldiers were sick enough to require hospitalisation. Soldiers from the wheat-fields of middle America shipped out to battle in Europe and took the virus with them. What followed was a pandemic the like of which the modern world has never seen. Over the next year, at least 21 million people would die from the 'Spanish flu'.
The disease wreaked havoc in Ireland. A society already ripped apart by the forces of war – in Europe and at home – now faced this mysterious illness that afflicted 800,000 and killed more than 20,000. It came to be known as the "black flu" because of how it affected a dark pallor in its victims. It struck rapidly, often killing within a day. It was especially lethal in the bodies of otherwise healthy young people.
This year, we mark the centenary of this oft-forgotten human tragedy. More people died from this single outbreak than died in the bloodiest war history had yet seen.
Scientists, medical doctors, and policy-makers today stand on high alert, fearful that the same kind of plague could arise again, just as suddenly. We know that variations of avian flu or ebola have the potential, if left unchecked, to devastate our societies in a similar way.
On such anniversaries, it seems important to remember that the Christian tradition has always been unanimous in its stance in the face of plague: the followers of Jesus stay with the sick.
This can be demonstrated in any number of ways. The theologian David Bentley Hart has argued that stretching back even before the time of Constantine, Christians have always been known as those who served the sick. St Ephraim the Syrian lived in the city of Edessa, which was ravaged by an epidemic in the 300s. While the rich fled, Ephraim established hospitals and welcomed all who were afflicted.
St Basil the Great founded a hospital in Cappodocia and personally worked the wards dedicated to treating lepers. St Benedict set aside space at his famous monastery at Monte Cassino as a free infirmary and made care of the sick a basic obligation for those who followed his rule. The very first public hospital in western Europe was opened in Rome by a Christian holy woman, St Fabiola. She was known to walk the streets of the city seeking out those who needed aid.
By the middle ages, the Benedictine order were running more than two thousand hospitals across Europe.
In the early modern era, new hospitals driven by the advances made possible through the scientific method, were established through Christian philanthropy. Advances were made again and again by people whose medical research was informed by their sense of Christian vocation – from the founder of modern physiology, Albrecht von Haller to the devout French Catholic, Louis Pasteur, who discovered the germ theory of infection. This tradition continues today in people like Kent Brantly, a doctor who, inspired by his evangelical Christian faith, was at the forefront in the battle to control the West African ebola outbreak in 2014.
In the Ireland of 2018, remembering the pandemic of a century ago should prompt us to consider the state of medical care that our nation currently provides. Although our society today enjoys a level of wealth and prosperity unimaginable to those who were fighting for independence in 1918, medical care is provided in a two-tier fashion that systematically benefits the wealthy. Although there is no shortage of doctors, nurses, and administrators who work with a sense of noble vocation, there are few places where the inequality in our communities is more evident than in the waiting rooms and waiting lists of hospitals.
As Christians in Ireland, we should remind the politicians who serve us that these structural injustices are not acceptable. We can be paralysed when we confront the complex ways that economic inequality works in our society. But striving to develop a medical system that cares for all, equally, without reference to the ability to pay, is an excellent starting point.
More than that, as Christians in 2018, we should remember Pope Francis' words about the entire church being a "field hospital":
"I see the church as a field hospital after battle. It is useless to ask a seriously injured person if he has high cholesterol and about the level of his blood sugars! You have to heal his wounds. Then we can talk about everything else. Heal the wounds, heal the wounds!"
Historically, the church has been a refuge for the outcast. Christians have been the ones willing to go to the margins and touch the untouchables. We must seriously challenge ourselves: who is the outcast in our parish? Where do you find the lepers in our society? Then as the church, we must make ourselves at home with them, and them with us. The church does not have the cure for all society's problems, but in an age of pandemic loneliness and epidemic poverty, the church must again become good news for those in need."