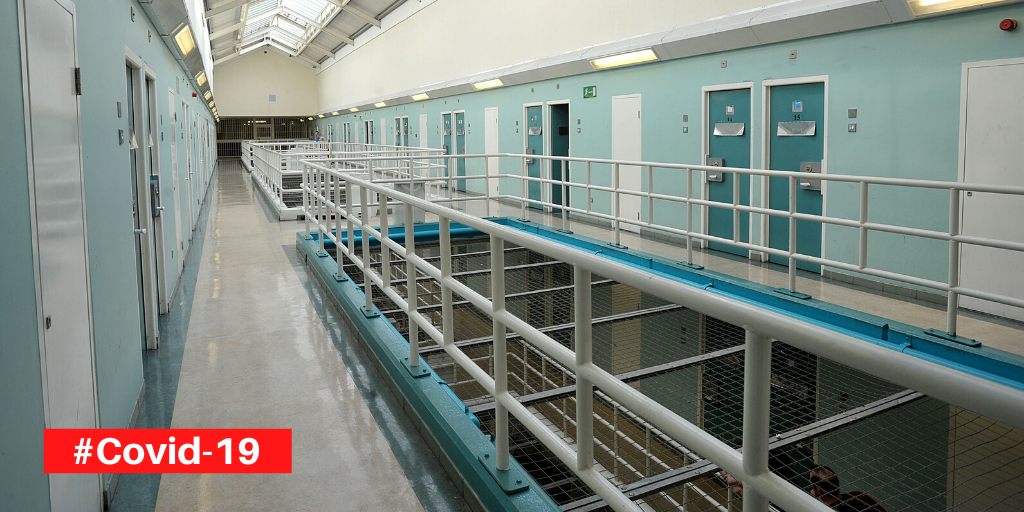 COVID-19 has not been hindered by national borders. It is naïve to presume that walls will hinder its spread. Wherever people are found, this virus can flourish.
In response to the risks posed to prisoners and prison staff, the Irish Prison Service has published an outline of how it is elevating its level of preparedness within Irish prisons.  The plan is twofold; firstly, steps to mitigate the risk of COVID-19 entering prison and, secondly, procedures for containment and control if a confirmed case is identified. This is commendable and in line with the wider Government approach to maintaining public health.
Alongside effective hand-washing and infection control, social distancing and self-isolation are the two other primary modes to stymie the spread of COVID-19.  Regimes of handwashing for prisoners and the provision of hand sanitiser for prison staff can be relatively easily implemented. But the current over-crowding within Irish prisons, with widespread cell-sharing, self-isolation of confirmed cases and symptomatic prisoners will be impossible.
In January 2020, there were 3,999 prisoners in custody. A total of 1,892 (47%) prisoners shared cells with other prisoners. In fact, 384 prisoners were accommodated in three-bed cells and 75 prisoners were in cells with four or more prisoners.
When the first confirmed case of COVID-19 in Ireland was announced on February 29th, the prison population had increased to 4,209. Both female prisons – the Dóchas Centre and Limerick – and three male prisons – Limerick, Cork and Midlands – were overcrowded. Within specific prisons, even if officially under capacity, there are particular wings which are overcrowded due to segregation of prisoners.
Prisoners are aging. The Irish Prison Service has identified that the number of older people (over 50) in custody has doubled over the past ten years. In January, 15% of the prison population under sentence were in this group. Research by the Irish Penal Reform Trust concluded that due to the 'accelerated ageing' effects of imprisonment, this cohort of prisoners will likely have comorbidity risks or complex health needs similar to a person in the community ten years older.
Taking these three factors together – overcrowding, cell-sharing and an aging group of prisoners – Irish prisons will become a cluster-zone for the incubation and spread of COVID-19. This spread will not just be to prisoners but also to prison staff, their extended families and the wider community.
This global pandemic is uncharted territory for this caretaker Government. We must react appropriately. The correct protocols, an abundance of personal protective equipment and soap, and a ban on visitations will not guarantee that COVID-19 can be prevented from entering our prisons and posing a risk to the wider community.
Drastically reducing the prisoner population is a logical and practical response to this crisis. It will reduce that chance of our prisons becoming cluster-zones for infection. Temporary release provides a simple mechanism to achieve this.  Prisoners who have been deemed no risk to the public by probation staff should be granted full temporary release to be home with their family. At the end of January, there were 960 prisoners (887 men and 73 women)  with less than two years of their sentence to serve. More than half of this group – 508 prisoners – had less than 12 months until they were released back into the community. The larger cohort of 960 prisoners represents the quintessential low-hanging fruit as they could easily be granted full temporary release until the end of their sentence. Recourse to prison would still exist in the case of re-offending to reassure the public.
Within female prisons, which are acutely overcrowded with limited single cell occupation, sentences tend to be short as they are often for property crimes related to poverty. Full temporary release until the end of their sentence for those women with less than two years remaining on their sentence would allow single cell occupancy, allowing for social distancing and isolation.
Alongside this larger group of sentenced prisoners, 817 people were on remand or attending trial. A conservative estimate suggests that at least half of this group – 400 people who are not convicted – could be temporarily released. Other countries have taken this approach or are considering reducing prison populations. Iran has temporarily released 70,000 prisoners to combat the spread of COVID-19 in their prisons.
So, by loosening the often-stringent criteria for the granting of temporary release while maintaining a focus on the safety of the wider community, Irish prisons could temporarily reduce the incarcerated population by 1,360 people. While still not providing each person with a single cell, this reduction would have a positive impact on the ability of prison staff to carry out their work. It would represent a significant step forward to single-cell occupancy for all prisoners in Ireland. Those released would have an opportunity to contribute meaningfully in this time of collective crisis.
Any proposal to lock-down prisons for set periods when a confirmed case occurs is a flawed approach as COVID-19 will spread rapidly through the prison population. Prison staff cannot be expected to remain onsite during a lockdown, thus presenting an increased risk of transmission to the community outside prison.
This proposal of temporary release, during a global pandemic and time of national emergency, is a necessary response with minimal incurred cost, which can be implemented quickly. Temporary release will not have an additional judicial cost because if a prisoner on temporary release decides to re-offend, they are re-arrested by An Garda Síochána and brought back to prison. The criminal justice system in Ireland is over-stretched due to failures of social policy and over-burdened as a result of over-crowding and under-staffing. The JCFJ do not seek to add additional burden or cost to prisons and the wider criminal justice system, but wish to propose a viable solution to protect prisoners, prison staff, their respective families, as well as the wider community from COVID-19.
Walls will not stop the transmission of COVID-19 but they will certainly intensify its transmission by creating cluster-zones. Prisoners sentenced for less serious non-violent crimes or nearing the end of their sentences pose less risk to the general community than COVID-19. It's time for the Prison Service to lead confidently and improve our collective chances of flattening the curve, slowing transmission, and saving lives.