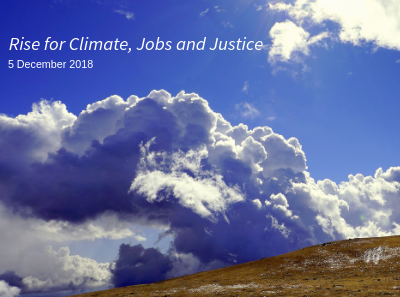 Are you worried about climate change? Would you like to see more government action? Will you join us to Rise for Climate, Jobs & Justice on Wednesday, December 5th?
On Wednesday December 5th, we invite you to join us – the Jesuit Centre for Faith and Justice, along with other members of the Stop Climate Chaos Coalition – at our TD Lobby Day in Buswell's Hotel, Dublin.
The lobby day provides an opportunity for you to meet with your local TD to:
• Tell them that we need urgent action on climate change
• Ask them what they are doing to ensure Ireland meets its climate targets to keep us below a 1.5°C rise in temperature.
• Tell them to ask their party leader to take the steps we know need to be taken in order to avoid climate chaos.
We know from a recent report from the UN's Intergovernmental Panel on Climate Change that unprecedented far-reaching action is urgently needed to limit global warming. Already the harsh consequences of climate change are being felt across some of the world's poorest regions, including areas where Jesuit works, supported by the Irish Jesuit Missions, are based.
If you agree that our elected representatives need to act now, that the Irish Government should take the necessary action to prevent climate breakdown, then register for this event and email your TDs using this link: Register and send an email to your TD
1. Once you have registered, and TDs have given us available times, we will send you a list of TD attendance times. You can then make an informed decision about what time you want to attend on the day.
2. When we send you this information, we need you to tell us exactly when you plan to be in attendance. This is very important so that we can keep track of when constituents from each constituency will actually be in Buswells. A link for you to use to input your time(s) will be provided when you register.
The Stop Climate Chaos Coalition is developing core demands for action, which we'll be asking TDs to sign-up to. We will provide you with a briefing in advance and we'll be there on the day as you meet your TDs, so you don't need to be an expert in any of the policy detail.
This is a timely chance for you to tell your TDs what you think! Look forward to seeing you on Wednesday 5th December!
Details of event:
Rise for Climate, Jobs and Justice
Wednesday 5th December, 9am – 8pm
Georgian Suite, Buswell's Hotel, Molesworth St. Dublin
RSVP [email protected]
Catherine Devitt
Environmental Justice Officer, Jesuit Centre for Faith and Justice