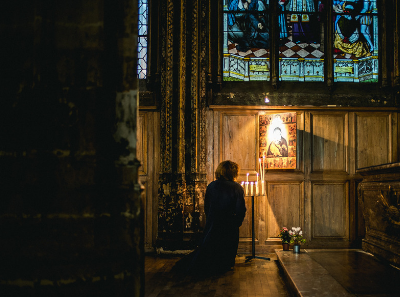 Prisoners' Sunday is an opportunity to pause, reflect and pray for the men, women and children in prison and detention. The following short reflection by Eoin Carroll touches upon some key moments in the prison landscape over the past year.
The second Sunday in November is Prisoners' Sunday. Historically it had more prominence but like most attention paid to prisoners, unless it is of the sensationalist variety there is not much interest. Yet it is significant that one of only fifteen 'Days of Prayer' should be set aside for prisoners. It is an opportunity to pause, reflect and pray for the men, women and children in prison and detention. The following short reflection touches upon some key moments in the prison landscape over the past year, says Eoin Carroll.
Visit of Pope Francis
For many the visit of Pope Francis was highly anticipated, for months there were rumours that he would visit an Irish Prison. As it was a short visit he, rightly, wanted to highlight the housing crisis and recognise the survivors of abuse. Francis did however give a special mention to prisoners during his homily in Knock. He thanked them for writing to him, and professed that he was close them and their families. His message was one of hope. Unlike the papal visit of 1979 there was no prisoner amnesty this time. This could be attributed to the less deferential relationship that the Irish State now has with the Catholic Church. However, amnesties and pardons have been offered in the most secularist countries to mark such occasions. While people might balk at the idea of it coinciding with the visit of a religious leader, it is something that should be considered in the future. Acts of mercy are transformative.
Irish Prison Service Director General
In September of this year it was announced that Michael Donnellan, Director General of the Irish Prison Service (IPS), will finish up in his role after seven years. Very shortly after his appointment the IPS became more open to engaging with civil society and advocacy groups, which was extremely welcome. His arrival also saw a concerted effort to develop strategic plans. In 2012 the IPS published its first strategic plan – separate to the Department of Justice – which, for the first time, allowed for an assessment of progress towards reform. The following year the JCFJ published, 'Making Progress? Examining the first year of the Irish Prison Service's Three Year Strategic Plan 2012–2015'.
In hindsight, some the commitments made by the IPS within year one were too ambitious. In fact, some are still outstanding. Seven years on, chronic overcrowding persists in many prisons, especially for women, and the numbers locked up for extended periods continues to increase. While there has been a dramatic improvement in the numbers locked up for 23 hours per day, overall, the number of prisoners on extended lockup (19+ hours) has increased from 339 (July 2013) to 536 (July 2018). A previous commitment to providing, 'as a minimum standard, out of cell time of three hours per day' to prisons on restricted regimes, has quietly disappeared. The legacy of Michael Donnellan will be strategic planning, a desire to lower the prison population, for the public to release that the majority of people in prison have themselves experienced trauma, and structured sentence management including upon release. But unfortunately, many decades-old problems persist.
Redefining Standards
The appointment of a new Inspector of Prisons, Patricia Gilheaney, is a real opportunity to build upon the work of her predecessors in defining prison standards. These need to be dynamic in that the benchmark should be continually rising. There also needs to be a clear articulation of minimum standards, and best practice/world class standards. Reports and treaties produced by agencies such as the United Nations Committee Against Torture and the Council of Europe European Committee for the Prevention of Torture and Inhuman or Degrading Treatment or Punishment, should be used to set the basic, minimum standards which must be adhered to. Separate to this, the 2017 desire by the then Tánaiste and Minister for Justice, Francis Fitzgerald to 'strive to provide a world class Prison Service', means that a set of best practice standards should also be developed. These standards need to be relative to what would be considered societal norms. There are useful resources, domestically, for developing these two sets of standards including the 1985 Whitaker Report, several Oireachtas Reports as well as the work of the JCFJ and the Irish Penal Reform Trust (see: Progress in the Penal System). In addition to the JCFJ report 'Making Progress', two articles in the Centre's journal Working Notes, explore prison standards, 'Overcrowding and Cell Capacity in Irish Prisons' by Patrick Hume SJ, and 'Redefining Standards Downwards: The Deterioration in Basic Living Conditions in Irish Prisons and the Failure of Policy' by Kevin Warner.
Oireachtas Committee Report
Finding hope can be particularly challenging when advocating for prison reform. The Oireachtas Joint Committee on Justice and Equality 'Report of Penal Reform and Sentencing' published in May 2018 does just that. It contains some radical recommendations that should not be dismissed. The bi-partisan Committee reached unanimous agreement – there was no minority report – with all members endorsing the report. Key among the recommendations was a call for a prison system which places the person at the centre, that a 'one size fits all philosophy' in the containment of prisoners is not appropriate. In practice this would mean more open prisons, more out of cell time, and security dependent on risk. The report was also clear in recommending that the prison population should, over a specific period of time be halved. The committee was unequivocal in recommending that young adults (<25) in prison be recognised as a distinct group and under the responsibility of the Irish Youth Justice Service, reflecting the view of the JCFJ report 'Developing Inside: Transforming Prison for Young Adults'.