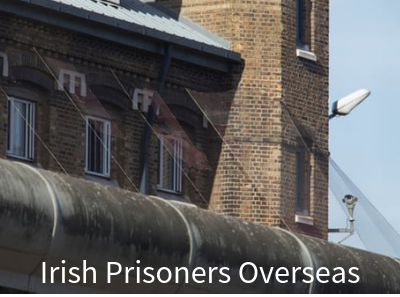 Irish citizens who are in prison overseas face lengthy delays to have their applications to be transferred home processed. This must change, says Ciara Kirrane of the ICPO.
Today, there are over 1,100 Irish citizens imprisoned around the world. Serving a prison sentence abroad comes with additional challenges for both the prisoner and his or her family. Prisoners may face language barriers, an unfamiliar legal system, isolation and discrimination, while families face additional financial pressures in visiting and supporting their relative abroad. Many cannot afford to visit their relative often, if at all, adding to the anxiety and stress of having a family member in prison.
The Council of Europe Convention on the Transfer of Sentenced Persons came into force in 1985 and allows prisoners to be transferred to serve their sentence in their own country. At the heart of the Convention is the recognition that being imprisoned in a foreign country places additional burdens on prisoners and their families and that reintegration is best served by being imprisoned in a person's home country. Ireland ratified the Convention on passing the Transfer of Sentenced Persons Act 1995 and since then has transferred 154 Irish prisoners into the State to serve the remainder of their sentence. This is less than a third of all those who have applied and in some years as few as one prisoner was transferred into the State. In fact since 2011 only 13 inwards transfers took place while 54 prisoners have been transferred out of the State to their home countries.
The rate of inward transfers declined significantly over the past decade and since 2014 virtually all applications were put on hold pending a Supreme Court decision in 2016, which found against the State and highlighted a number of complexities in the legislation governing inward transfers. Since then no prisoner has been transferred back to Ireland from an overseas prison, although applications from countries other than the UK have been re-opened since May. Accepting applications from the UK presents particular challenges, as there is a significant difference in the sentencing regimes between the two States. With the vast majority of Irish prisoners overseas being in detention in England, this is an issue of particular concern for the ICPO.
For more than two years, prisoners have waited for legislative change which would enable their application to transfer back to Ireland to progress – some of whom applied as long ago as 2012. The lengthy delay in remedying this issue continues to cause hardship to prisoners and their families. With each passing year, the pain of separation increases; elderly parents struggle to visit their son or daughter and children miss sharing yet another special occasion with their parent in prison overseas.
In October the Minister for Justice stated that draft Heads of Bill are currently being finalised. While this is welcome news the concern is that this legislation will struggle to compete for Oireachtas time among the many other competing and worthy Bills on the Legislative Programme. Ultimately political will is what is needed to bring forward the legislation and to ensure that once passed into law, prisoners' applications are processed in a timely manner. Without this, prisoners and their families continue to bear the burden of imprisonment overseas and opportunities for providing prisoners with the supports they need to successfully reintegrate into Irish society are missed.
Ciara Kirrane
Casework, Information and Policy Officer
Irish Council for Prisoners Overseas
The Irish Council for Prisoners Overseas was established by the Irish Catholic Bishops' Conference in 1985 to provide information and support to Irish prisoners overseas and their families. For more information about our work visit our website www.icpo.ie or phone 01-5053156.
Ciara Kirrane
Casework, Information and Policy Officer
Irish Council for Prisoners Overseas