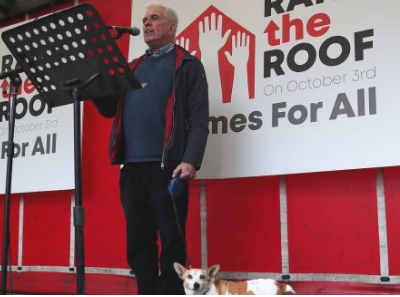 A speech at the October 3rd Raise the Roof housing rally by Peter McVerry SJ urged the assembled crowd to let the government know that they would 'vote homelessness out' at the next general election.
The rally was organised by the National Homelessness and Housing Coalition in conjunction with trades unions, and was supported by students, a number of advocacy organisations, and all political parties with the exception of Fine Gael. It was estimated that up to 10,000 people attended the march.
McVerry criticised the government policy which relies on private landlords as the solution to the housing and homelessness crisis. As the sector from which most people who find themselves newly homeless come he said that 'the private rented sector is part of the problem, not part of the solution.'
In spite of the government's claims that their homeless policies are working, 'any 12-year-old child could tell you that they're not working, but the government insists that if you say something isn't true often enough that people will come to believe it' he said. The scale of the crisis reaches beyond those who are currently homeless to also include a further 'half a million people…whose housing situation is causing them serious distress'.
Other speakers at the event represented the interests of students, travellers and women's groups. Damian Dempsey performed at the event, as did Senator Frances Black. The organisers have not set a date for a subsequent event but have said that it will be held on a Saturday, to facilitate the attendance of as many people as possible.
(Photo: Brian Lawless/PA Wire)
{fastsocialshare}