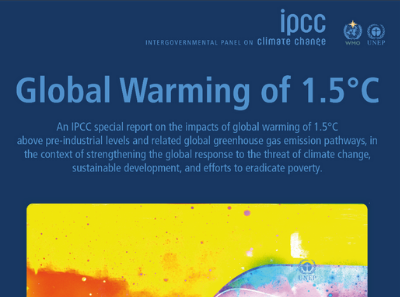 A new climate report warns that countries must commit to becoming net zero emitters of greenhouse gas emissions before 2050, and that decisions made today are critical for ensuring a safe, sustainable future.
Rapid, unprecedented, and far-reaching action across all aspects of society is urgently required to limit global warming to 1.5 °C, the latest Intergovernmental Panel on Climate Change report on climate change has concluded.
The intergovernmental body behind the report is hopeful that limiting temperature rise to 1.5 °C is possible, however countries must commit to becoming net zero emitters of greenhouse gas emissions before 2050. Established as the safe operating space in which the risks of human-induced climate change are reduced, keeping below the 1.5 °C mark is a key objective of the 2016 Paris Agreement.
In response to the report, Catherine Devitt, environmental justice officer with the Jesuit Centre for Faith and Justice, said that
'The window for preventing dangerous, runaway climate change is quickly closing. We have to see this time as an opportunity for human renewal. We are now called to respect the human right to a secure and sustainable future. The time-scale for action is short, but this is the only window we have.'
As Ireland's emissions profile is on an upward trajectory, significant challenges lie ahead for the Irish government in meeting its climate commitments. Alongside other NGOs, the Jesuit Centre for Faith and Justice has repeatedly called on the government to amplify and accelerate its ambition on climate action across all sections of Irish society.
Catherine went on to say:
'The IPCC report solidifies the moral imperative that now exists for states, including Ireland, to protect its citizens and those already impacted by climate change from preventable harm. The Irish government cannot afford to continue its weak response to climate policy. Our policy makers must act in way that is transformational and equitable. Decarbonisation policies need to be implemented without delay, even where this involves difficult political decisions and challenging policy contexts.'
The IPCC report, hailed as the most important climate science document in the past decade, provides an authoritative evaluation of the impacts of global warming, and the scale of action required to prevent dangerous climate change. The report confirms that we are already witnessing the consequences of 1°C global warming through weather extremes, rising sea levels and diminishing Arctic sea ice. Climate-related extreme events account for massive population displacement, and food and resource scarcities in vulnerable regions of the world, including areas where the Irish Jesuit Missions and the Jesuit Refugee Service are present. Among other recommendations, the report suggests that mitigation efforts be associated with the UN Sustainable Development Goals.
{fastsocialshare}