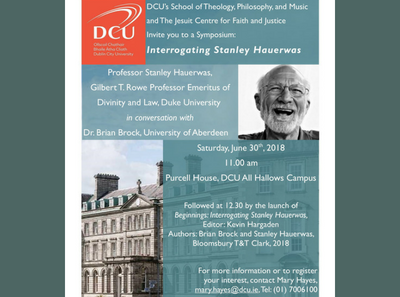 Stanley Hauerwas is arguably the most influential moral theologian of the last generation. On Saturday 30th June, he appears at an event in All Hallow's Campus, DCU with fellow theologian Brian Brock to discuss the book 'Beginnings: Interrogating Hauerwas' which is edited by the JCFJ's Kevin Hargaden.

In a series of audio posts, Kevin Hargaden explains who Stanley Hargaden is and why we should be interested in this 'outspoken pacifist'. The book's co-author Brian Brock is a collaborator and friend of Hauerwas who is also introduced to us here.
The book 'Beginnings: Interrogating Hauerwas' is important on at least two levels. As an academic guide it provides an introduction to reading Hauerwas's work over the past four decades. It also tackles the contentious issues within it like medical ethics, peacemaking and virtue theory. The book lives up to its original title 'Hard Questions'.
But it is the form of the work that really counts. It is a long conversation between two friends – Hauerwas and Brock, which spiralled out of control in the way all good conversations do. This way of doing theology, between friends represents a departure and is profoundly innovative.
Kevin Hargaden became a student of Brian Brock in Aberdeen, on the advice of Stanley Hauerwas and so was the natural choice to undertake the project which became the the book. It took a couple of years of intense and indepth interviews between the two men, and is finished with a considered afterword by Hargaden and Brock in which they present the case for Hauerwas being a significant theological voice.
The symposium 'Interrogating Stanley Hauerwas' is a unique opportunity to see the two men conduct theology not as a dry academic discipline, but as a dialogue between friends. The conversation will include everyone, as there will be plenty of time for questions and answers after the event. The book launch will immediately follow the event and will be introduced by Irish theologian Fr Enda McDonagh.
For more information about the event or to confirm your attendance please contact Mary Hayes at [email protected] or call 01 700 6100.
All are welcome at this event. Please share with anyone you think would be interested.
Time: 11.00
Date: Saturday, 30 June 2018
Location: Purcell House, All Hallows Campus, DCU
{fastsocialshare}