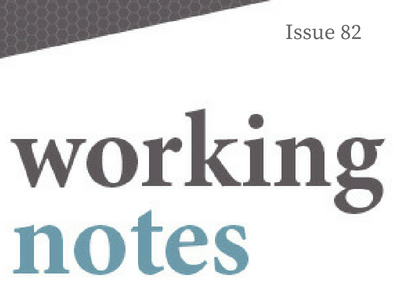 Working Notes has a brand new look! In Issue 82, we look back on the ten years since the crash.
There are few votes in climate policy, hence the reluctance of successive governments to embrace it, says Sadhbh O'Neill, in her article Ireland and Climate Change: Looking Back and Looking Ahead about the missed opportunities of the last decade in terms of adapting to climate change and the impending environmental challenges Ireland is facing.
Cian O'Callaghan, Assistant Professor of Geography at Trinity College Dublin whose recent research explored the impacts of Ireland's property bubble and associated crisis takes us on a tour of the so-called 'ghost estates' which were a hallmark of the crash in this issue in Crisis Ruins and their Resolution? Ireland's Property Bubble Ten Years On.
Henry Silke is a journalism lecturer in at the University of Limerick. His article, Framing the Tiger's Death: How the Media Shaped the Lost Economic Decade looks at how the Irish media's agenda-setting and framing shaped the last ten years.
Marie Mianowski is associate professor at the University of Nantes. Her research focuses on Irish studies as well as place and landscape issues in literature and the arts. In this issue, Kevin Hargaden interviews her about her work 'Post Celtic Tiger Landscapes in Irish Fiction' which examines Irish novels and short stories by writers including William Trevor, Anne Enright, Donal Ryan, Claire Kilroy, Kevin Barry and Colum McCann. They discuss its representations of place and landscape in Irish fiction since 2008.
We value your feedback on our articles and would like to know what you think of our new look. Get in touch.
If you'd like to receive a hard copy of Working Notes, please email us at [email protected]