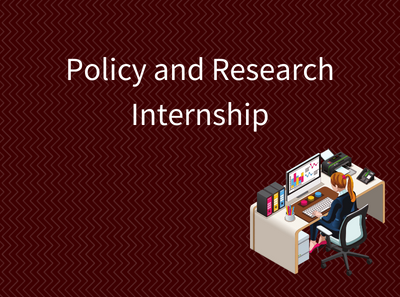 The Jesuit Centre for Faith and Justice (JCFJ) is inviting applications for the position of Policy and Research Intern. The ideal candidate will have a passion for social justice issues, e.g. the rights and needs of people in prison, a desire to solve homelessness or stop climate change, be a self-starter and have excellent organisational skills.
Role and Responsibilities
The Intern will be involved in supporting the Centre's policy and research work, particularly in the areas of prisons, homelessness and climate change. This will include undertaking research, analysing government policy documents and providing material for the Centre's website and social media channels. Further duties outlined below.
A key purpose of this Internship is to offer the holder an opportunity to experience a range of learning opportunities in policy and research functions of a voluntary organisation.
Essential Criteria
– A third level qualification (or considerable involvement in a relevant area) e.g. social science, sociology, criminology, law.
– Respect for the Jesuit ethos and a commitment to social justice
– Proficiency in IT
– Ability to work as part of a team and on own initiative
– Knowledge and interest in at least one of the core policy areas of the Centre
– Analytical and drafting skills
– General computer skills (Word, Excel, PowerPoint)
Desirable Criteria
– Previous experience of report writing and research in a core policy area of the Centre
– Experience of direct work with people who are discriminated against or marginalised, e.g. people who are homeless.
– Experience of working in a professional environment
Applying (Deadline: 5:00pm, 15th June 2018 – Interviews last week in June).
Applications, via email: [email protected] or in writing to: Jesuit Centre for Faith and Justice, 26 Upper Sherrard Street, Dublin 1.
Queries: 01 855 6814 [email protected] (Eoin Carroll).
Applications should include:
1) Covering letter, one page (making reference to the essential/desirable criteria outlined above),
2) Full Curriculum Vitae (max. two pages).
Position Information
Policy and Research Intern
Begins: early July
Days: The role will be for a minimum of three days per week, for a duration of six months(negotiable).
Place of Work: 26 Upper Sherrard Street, Dublin 1.
Interns within the Centre receive a contribution towards their living costs.
Support information
About the Centre
The Jesuit Centre for Faith and Justice works to combat injustice and marginalisation in Irish society, through social analysis, education and advocacy. The Centre highlights complex social issues, informs opinion and advocates for governmental policy change to create a fair and equitable society for all. Its current social policy focus is in the areas of penal policy, housing and homelessness and environmental policy.
The JCFJ was established in 1978 by a group of Jesuits living and working in Ballymun to promote social justice and critically examine issues of structural injustice and poverty. Since its foundation the Centre has been a critical voice in the areas of unemployment, poverty, juvenile justice, prison policy, homelessness, environmental and health policy.
Principal Duties and Responsibilities
The Policy and Research Intern will contribute to:
• Research and writing policy positions
• Assisting in the Centre's social policy campaigns
• Providing material for the Centre's websites
• Assist in the production of Working Notes, the Centre's Journal
• Contribute to ongoing research and JCFJ activities
• General office administration: general support services such as typing, filing, handling of office documents, promotion material ( on occasions)
• Undertake other related duties as will be requested
In addition it is expected that the intern will:
• Liaise with line manager; attend weekly planning meetings as required.
• Be pro-active in ensuring effective communication in meetings, deadlines and project requirements with the group.
• Exercise initiative and take full responsibility for allocated duties
{fastsocialshare}