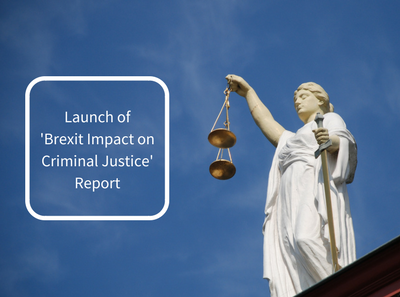 Minister for Justice and Equality, Charlie Flanagan will launch the Association for Criminal Justice Research and Development (ACJRD) 20th Annual Conference Report 'The Brexit Impact on Criminal Justice Cooperation in Ireland' on Tuesday, April 17th at the Criminal Courts of Justice.
It is the conference proceedings report of the Annual Irish Criminal Justice Agencies conference, which took place last July, in Dublin Castle. The theme of the event was 'Youth Justice Policy in Ireland – Where to next?'
Eoin Carroll of the Jesuit Centre for Faith and Justice (JCFJ) and Brian Santry of the The Probation Service made a presentation at the conference: 'Offenders aged 18- 24 years – The Justifications and Challenges for extending Juvenile Justice approaches to them'.
The presentation covered the issues addressed by the JCFJ and The Probation Service in relation to young adults and the prison system. It encompassed the establishment of young persons' probation in 2004, the extension of juvenile justice approaches to young adults in detention, and sentence management, as well as the impact of incentivised regimes on the 18 – 24 age group.
The launch of the conference proceedings report will take place in conjunction with the 11th Annual Martin Tansey Memorial Lecture, to be given by Tim Chapman, Chair of the Board of the European Forum for Restorative Justice (EFRJ) and visiting lecturer at Ulster University.
Details of the launch:
Date: Tuesday, 17th April, 2018
Time: 5.30pm for registration. The event will commence at 6pm.
Venue: Juror Reception Area, Criminal Courts of Justice, Parkgate Street, Dublin 8
This is a free event but booking is essential. Book your tickets here
{fastsocialshare}