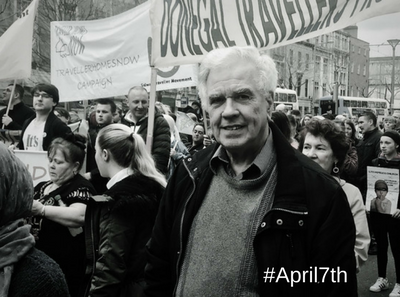 Fr Peter McVerry, speaking at the end of last Saturday's National Homeless and Housing Coalition march said that the message to this Government is 'Don't show me the way to a hostel. Don't show me the way to a bed and breakfast. Show me the way to go home.'
The quote was prompted by a placard held by a protestor at the march, where turnout was estimated to have exceeded 10,000 people.
Fr McVerry criticised the Government literature which never refers to housing as 'a fundamental human right' but instead say it is 'a fundamental requirement for people'. The difference between rights and requirements is not merely semantic, he said, pointing out that 'rights are enforceable by law; requirements are not'. He stressed that the Irish Constitution should have housing inserted into as a right, in keeping with the international human rights treaties that the Government has signed up to.
He observed that the Taoiseach's recent admission that the homelessness crisis was an emergency had not resulted in any action and asked 'What sort of emergency does not have an emergency action plan?'.
Minister for Finance, Paschal Donohoe also came under fire for his assertion in an article for the Sunday Business Post last December where he said that this crisis was the biggest social problem faced by this country in a generation and that this Government would be judged on its response to it. He urged the listening crowd to 'hold him to his word'.
'This government would get two out of ten on its response to the housing and homeless crisis' said Fr McVerry, adding that we, the public should show them in advance of the next general election that they will be judged on these parameters.
(Photo courtesy of Ciarán Ahern @ciaranahern )
{fastsocialshare}