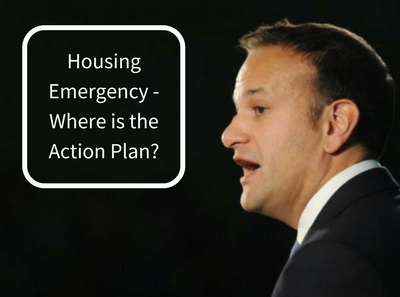 'Where is the Emergency Action Plan for the Housing Emergency?' Fr Peter McVerry demands that Leo Varadkar and his Government commit to taking concrete steps to solve the housing crisis.
Last week's acknowledgement by An Taoiseach, Leo Varadkar that the current housing and homelessness crisis is a national emergency has prompted Fr Peter McVerry and the Jesuit Centre for Faith and Justice to ask the Government to outline the concrete measures it proposes to take to deal with this emergency and its effects.
Speaking in advance of tomorrow's National Homeless and Housing Coalition demonstration in Dublin, Fr McVerry said:
'Following the publication of figures last week showing that homelessness has reached a new record level, An Taoiseach finally acknowledged that the country is facing a housing emergency. However, there has been no indication from the Government as to the scale or urgency of the actions it is prepared to take to deal with that emergency.
'When the country faced the threat of an outbreak of foot-and-mouth disease in 2001, and more recently when it faced severe weather events, the Government immediately set up national emergency response committees to devise and implement actions to address the impending crisis.
'Where is the national emergency response committee for the housing emergency that is now, at last, being officially recognised but which has, in fact, been a reality for several years?'
Fr Peter McVerry has proposed a number of short-term measures the Government could take which could significantly ease the crisis:
Legislate, for a period of three years, to prohibit banks, vulture funds and landlords evicting people into homelessness, except in extreme circumstances such as refusal to pay rent or antisocial behaviour.
Recognise that the whole country is now in fact 'a rent pressure zone' and limit rent increases to rises in the Consumer Price Index.
Maximise the use of the Mortgage to Rent scheme, and make it obligatory on financial institutions to participate, unless exceptional circumstances prevail.
Introduce an escalating tax on properties left empty without reason for an extended period and ultimately make such properties liable to compulsory purchase by local authorities.
Fr McVerry says that medium-term solutions should include 'a massive increase in the provision of social housing by local authorities and voluntary bodies. There is a significant amount of serviced land in public ownership which could be used to provide social housing, as well as cost-rental, affordable and co-operative housing.'
The JCFJ has previously criticised the Government's action plan on housing 'Rebuilding Ireland' in its journal Working Notes and continues to refute its assertion that the approach outlined in the plan offers a solution to the Irish housing crisis. Homelessness statistics released by the Department of Housing for February 2018 showed 9,807 people living in emergency accommodation, 3,282 more than in July 2016 when 'Rebuilding Ireland' was launched. These figures included 3,755 children in such accommodation – 1,407 more than in July 2016.
There is currently no indication that the Government will amend its flawed approach, as evidenced in its failure to commit to the provision of an adequate number of social housing units; relying instead on the subsidisation of rents in the private rental sector, through a vast expansion of HAP (Housing Assistance Payment).
So far this year, this policy has cost the State €729.5 million – €2 million per day – but the tenants who are so assisted have little security, even in the short-term, and are frequently living in sub-standard accommodation.
Fr Peter McVerry and other team members of the Jesuit Centre for Faith and Justice will be at tomorrow's march, which starts at the Garden of Remembrance at 1pm, and encourage everyone who cares about this issue to join us!
{fastsocialshare}