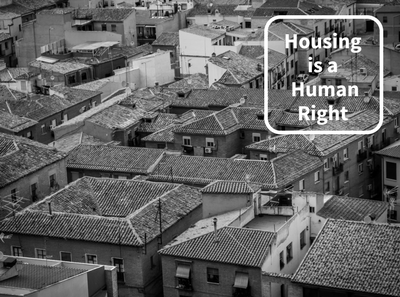 'Housing is a fundamental human right' said Fr Peter McVerry of the JCFJ and Sr Stanislaus Kennedy of Focus Ireland, who have joined forces to condemn the Government's response to the housing crisis, calling the current situation 'an emergency that requires far more radical action than we have seen so far.'
They were responding to today's release of the official homelessness figures for February 2018, by the Department of Housing, Planning and Local Government.
The number of people who are homeless now stands at 9,807 – an increase of 703 on January's total. The figures also show an increase of 222 families who are now staying in emergency accommodation and include 488 more children, in just one month.
Peter McVerry and Sr Stan have 'lost all confidence in the commitment and ability of this Government' to solve the crisis. They believe that homelessness Is not inevitable and should not be normalised. It is a social problem that could eliminated, if the political will was there.
The Government's Rebuilding Ireland action plan promised to address homelessness. Since its launch in July 2016, the number of people living in emergency accommodation has risen by more than 3,200.
'A deeply flawed strategy, such as that outlined in Rebuilding Ireland, and a stack of press statements aimed primarily at presenting a positive picture of developments are no substitute for the coherent, joined-up strategy which is required to address the housing and homelessness crisis we are facing' said Fr McVerry.
Sr Stan added her concerns about the families and children living in emergency accommodation, saying 'research shows that even a short period of homelessness often has a very negative impact on families and their children. With one-third of the families in emergency accommodation now being in this situation for more than 12 months, the Government needs to urgently rethink its approach.'
Effective solutions for the housing and homelessness crisis suggested in a joint statement by both campaigners included an ambitious drive to provide real social housing, instead of relying on the subsidisation of rents in the private rental sector.
The pair also stated the importance of making it illegal to evict people into homelessness, except in exceptional circumstances, and of strengthening the rights of rental tenants.
Property and land that is currently vacant should be brought back into use, using measures like compulsory purchase orders and punitive taxes, if necessary, to discourage hoarding and increase supply.
The inability or unwillingness to assure the basic human right to housing to tens of thousands of people in Ireland today is seen by both Sr Stan and Peter McVerry as 'an indictment of our society.'
{fastsocialshare}