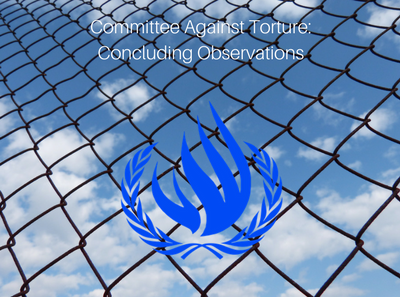 The UN Committee Against Torture has published its concluding observations from the second periodic review of Ireland, which took place in July. The examination, by ten independent human rights experts, was to assess Ireland's adherence to the United Nations 'Convention against Torture and Other Cruel, Inhuman or Degrading Treatment or Punishment'.
The Committee expressed concern that the State has not yet ratified the Optional Protocol to the Convention (OPCAT)e Convention (OPCAT), a decade after signing it and that this has prevented the establishment of a national preventive mechanism for independent monitoring of places of deprivation of liberty, and recommended that this be rectified forthwith.
It also recommended that the existing bodies that monitor places of detention continue to be allowed to make 'repeated and unannounced' visits to them, and that their reports are heeded and acted on.
The report outlined the Committee's concern about two areas in which the Jesuit Centre for Faith and Justice has been advocating for change – overcrowding in women's prisons, and the use of extended lock-up, or solitary confinement.
It was noted that the overall prison population is decreasing, but that the number of women in detention has continued to rise, with overcrowding a concern in the Dóchas Centre for women and in female (and male) wards in Limerick prison. It was recommended that the State continue to strengthen the measures in place to reduce overcrowding in prisons, to bring the conditions of detention into line with the Mandela rules (The Standard Minimum Rules for the Treatment of Prisoners).
The use of solitary confinement for prolonged periods, and as a disciplinary measure also a cause for concern, as was the 'poor regime' under which prisoners are protection are held, having almost no contact with the outside world. The committee recommended that solitary confinement only be used as a last resort, never on juveniles and not for prolonged periods.
Read the full report here
{fastsocialshare}