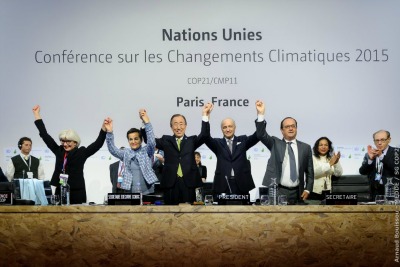 Wednesday October 5th marked the ratification of the Paris Agreement on climate change. Undoubtedly, this is a welcomed milestone in international efforts to curb dangerous climate change levels; however without committed, ambitious and tangible efforts at a national level, the goals of the agreement will not be achieved.
In response to the ratification, the Stop Climate Chaos Coalition – which the Jesuit Centre for Faith and Justice is a member of – criticised Ireland's weak response on climate action. Read their press release below.
Stop Climate Chaos
For immediate release
6 October 2016
Ireland's inaction an affront to global agreement as EU lodges ratification of historic Paris climate deal
The Stop Climate Chaos coalition has warned that ratification of the Paris Agreement by the EU this week isn't a time for back slapping – it's time for action. According to the group, current emission reduction pledges fail to put the world on track to achieve the goals of the agreement. The coalition has been sharply critical of the Irish government, which has expended huge political capital negotiating easier targets with the EU in what the group called "an affront to the landmark global consensus achieved in Paris".
The last national action plan on climate change expired in 2012 and the Environmental Protection Agency recently announced that Ireland would fall 70% short of achieving its EU 2020 emissions target. Luxembourg is the only other EU member on track for failure. Rather than spurring action this failure has been used by Government Ministers to make the case for an easier emissions reduction target for Ireland for 2030. The EU's recent 2030 proposal would actually incentivise Ireland to increase emissions for the next two years. This is short-sighted policy-making in the extreme which will increase the overall costs of transition in Ireland and leave this country lagging behind in the global shift to a low carbon economy. It is also aggravating a major global injustice given the disproportionate impact of climate change on the poorest women and men in the world, while Ireland remains among the highest emitters of carbon per person.
In Ethiopia, where per capita greenhouse gas emissions are 80 times lower than Ireland's, 10 million people in that country – around twice the population of Ireland – are currently dependent on food aid due to persistent drought in a changing climate exacerbated by El Niño. These are the women and men on the frontline of a climate crisis they did not create.
Executive Director of Trocaire, Eamonn Meehan highlighted:
'A swift, just and definitive move away from fossil fuels must be central to an urgent increase in Government action in Ireland to tackle climate change, starting with the divestment of public money currently being invested in the industry by the Government via the Irish Strategic Investment Fund. Fossil fuels are responsible for around two thirds of the emissions that are exacerbating poverty, hunger and inequality in the poorest countries as a result of climate change – and yet around 70% of new investment in energy is still going into fossil fuels. This has got to change urgently if we are to have a chance of meeting the Paris goals'.
The global fossil fuel divestment movement, the fastest growing movement of its kind in history, is focusing public and political attention on the reality that fossil fuels must be phased out without delay. The list of those committed to removing their money from the industry include major universities such as Glasgow and Dayton universities, European cities such as Copenhagen and Berlin, and the Amalgamated Bank in the US.
Chairperson of Friends of the Earth Ireland, Dr. Cara Augustenborg highlighted that failure to act in line with the commitments made in Paris last December is also not in the interest of Irish people. She said:
'When you look at what a fossil fuel free Ireland would mean in our daily lives, you can see many of the things we need to do to reduce greenhouse gas emissions are also things that benefit our health, security, job prospects and quality of life. Ireland has agreed to achieve a low carbon transition by 2050, but our government's actions to date are moving us in the opposite direction. This has serious implications for Ireland's ability to remain competitive with the rest of the world. For example, this week, Solar 21 announced Ireland missed out on 80 of their new permanent jobs and possibly hundreds more because our renewable energy policies were not progressive enough. If we don't start getting serious about making the transition to a low-carbon society soon, we risk our international reputation as well as our competitiveness."
ENDS
Notes
About Stop Climate Chaos: Stop Climate Chaos (SCC) is a coalition of 31 civil society organisations campaigning to ensure Ireland plays its part in preventing runaway climate change. It was launched in 2007 and is the largest network of organisations campaigning for action on climate change in Ireland. Its membership includes development, environmental, youth and faith-based organisations. The members of SCC are: Afri, BirdWatch Ireland, Christian Aid Ireland, Comhlámh, Community Workers' Cooperative, Concern, Cultivate, Cyclist.ie, Dublin Friends of the Earth, Eco Congregation Ireland, ECO UNESCO, Feasta, Friends of the Earth, Gorta, Jesuit Centre for Faith and Justice, Just Forests, Kimmage Development Studies Centre, Latin America Solidarity Centre (LASC), Liberia Solidarity Group, Methodist Church of Ireland – Council of Social Responsibility, Mountmellick Environmental Group (MEG), National Youth Council of Ireland, Oxfam Ireland, Peoples Climate Ireland, Presentation Ireland, Sustain West Cork, Trócaire, An Taisce, VITA and V.O.I.C.E. Further information is available at: www.stopclimatechaos.ie.