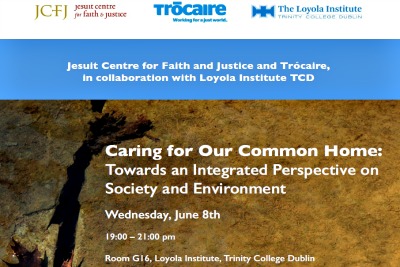 Jesuit Centre for Faith and Justice to jointly host seminar on Laudato Si'on June 8th
On June 8th, the Jesuit Centre for Faith and Justice and Trόcaire, in association with the Loyola Institute (Trinity College Dublin) will host a seminar event titled 'Caring for our Common Home; Towards an Integrated Perspective on Society and the Environment'. The seminar will mark the first anniversary of the publication of Laudato Si', the social and environmental encyclical letter from Pope Francis.
The seminar will take place:
Wednesday, June 8th, 7:00pm to 9:00pm.
Room G16 – ISE-Loyola Building
Trinity College Dublin
The event brings together speakers including Catherine Devitt (Jesuit Centre for Faith and Justice), Dr. Lorna Gold (Trόcaire), Dr. Liam Lysaght (National Biodiversity Centre), and Dr. John Barry (Queens University Belfast) to discuss the implications the Laudato Si', and offer response on how we can help realise the social and ecological transformation Pope Francis calls for.
The outline of presentations is as follows:
• Welcome address from Éamonn Meehan (Trόcaire)
• An introduction to Laudato Si' (Catherine Devitt, Jesuit Centre for Faith and Justice)
• Ireland's Biodiversity; why we need to care for our ecosystems. (Dr. Liam Lysaght, National Biodiversity Data Centre)
• The Challenge of Laudato Si' for Governance and Policy (Dr. Lorna Gold, Trόcaire)
• Redefining our understanding of progress for human wellbeing and flourishing (Dr. John Barry, Queens University Belfast)
Following presentations from guest speakers, a panel discussion, chaired by Dr. Cathriona Russell (Trinity College Dublin), will reflect on the importance of the encyclical, and offer response on how we can drive the conversation forward, particularly in Ireland, to help realise the social and ecological transformation required. Concluding remarks will be made by John Guiney (Jesuit Centre for Faith and Justice).
Admission is free. As places are limited, registration is required. Please see the event page to register: www.eventbrite.ie/e/caring-for-our-common-home-towards-an-integrated-perspective-on-society-and-the-environment
For more information, contact Catherine: Tel: (01) 855 6814, email: [email protected]
Background to the seminar
In June 2015, Pope Francis released his much awaited and well-received encyclical, Laudato Si'. Otherwise known as a papal letter, the second encyclical from Pope Francis, Laudato Si' translates from Umbrian Italian into Praise Be to You, and comprises the subtitle "On Care for Our Common Home". This is the first encyclical devoted entirely to our relationship with the Earth, and despite being a formal part of Catholic Social Teaching, the encyclical reaches beyond the 1.2 billion Catholics, to speak to a universal audience.
Within the encyclical, Pope Francis details what is happening to our common home – namely, pollution and climate change, the decline of access to safe drinkable water, the loss of biodiversity, global inequality and the decline in the quality of human life. He challenges and confronts us with the acknowledgement that "the earth, our home, is beginning to look more and more like an immense pile of filth" (LS., 21).
Laudato Si' comes at a profoundly important time, which helps explains its popularity and appeal among a wide-reaching audience. We have reached a critical juncture in history; the accumulation of wealth at a scale and breadth never experienced before exists alongside, and is contributing to significant and increasing poverty and global inequality, the degradation of whole ecosystems is causing significant species decline, and the increasingly apparent threat of climate change risks destabilising our very existence on Earth, and that of the thousands of other species we share our common home with. We are called to make challenging decisions as to how we can create a more just and equal global society that is sensitive to the needs and processes of the natural environment in which we belong.
How can we respond to the socio-ecological crisis we are now faced with?
How can we develop "a synthesis and integration of perspectives in tackling problems which are both environmental and human" – a perspective based on the clear acknowledgement that:
"We are faced not with two separate crises, one environmental and the other social, but rather with one complex crisis which is both social and environmental… Strategies for a solution demand an integrated approach to combating poverty, restoring dignity to the excluded, and at the same time protecting nature" (LS., 139)
The Jesuit Centre for Faith and Justice and Trόcaire, in association with Loyola Institute TCD, are delighted to invite you to a seminar celebrating the one year anniversary of Laudato Si'. We bring together speakers actively involved in the practical application of biodiversity conservation, in climate justice, policy and governance, and in critical thinking on the political economy, progress and human wellbeing, in order to expand the conversation on how we can develop an integrated perspective on social and ecological problems to achieve more just and sustainable pathways.
Biographies
The Jesuit Centre for Faith and Justice through engaging in social analysis, theological reflection and advocacy contributes to the development of a society that is characterised by social justice, economic fairness and environmental sustainability. The Centre is a member of the Stop Climate Chaos Coalition.
Trόcaire was established in 1973 as a charity to express the concern of the Irish Catholic Church for the suffering of people living in the world's poorest regions.
Loyola Institute is a teaching and research unit devoted to the Catholic theological tradition located within the Confederal School of Religions, Peace Studies and Theology and the Faculty of Arts Humanities and Social Sciences of Trinity College Dublin.
Éamonn Meehan joined Trócaire in 1991 as Programme Officer for the Southern Africa Region. In 1996, he became Head of the International Division, responsible for Trócaire's work overseas. In 2002, Éamonn was appointed Deputy Director and Head of Trócaire's Ireland Division with responsibility for fund-raising and marketing, communications, development education, policy and campaigns. Éamonn became Executive Director of Trócaire in 2013.
Catherine Devitt is environmental justice officer with the Jesuit Centre for Faith and Justice, and also works in Planning and Environmental Policy, University College Dublin. She has an MSocSc in Social Science, and an MSc in Environmental Policy.
Dr. Liam Lysaght is Director of the National Biodiversity Data Centre, an organisation that collates and manages data on Ireland's wildlife, and provides the evidence-base to better understand how Ireland's wildlife is changing. Liam is also Head of Delegation for Ireland to the Global Biodiversity Information Facility, a global informatics network of 95 partner organisations working to deliver scientific data to meet global conservation policy needs.
Dr. Lorna Gold is head of Policy and Advocacy in Trócaire and a recipient of the Joseph Rowntree Centennial Fellowship and an ESRC post‐doctoral fellowship from the University of York. She writes on a broad range of development issues, including the Millennium Development Goals and the relationship between Catholic Social Teaching and ethical business models.
Dr. John Barry is Professor of Green Political Economy at the School of Politics, International Studies and Philosophy, Queens University Belfast. He has a BA and MA from University College Dublin and a PhD from the University of Glasgow. He is a former co-leader of the Green Party in Northern Ireland and is currently a Green Party councillor.
Dr. Cathriona Russell teaches theology and environmental ethics in the Department of Religions and Theology, Trinity College Dublin. She has a degree in Horticulture from UCD. Her research interests in theology are focused on cosmology and anthropology and in theological ethics on environmental hermeneutics, sustainability & development economics.
John Guiney SJ is a member of the Eastern Africa Province of the Society of Jesus, and is Director of the Jesuit Centre for Faith and Justice, and the Irish Jesuit Mission Office in Dublin.